You may not agree with all of the dive sites and destinations I decided on here and there are some places like the Tobago keys we don't list though they are excellent locations just their remoteness makes them a difficult spot for the sport diver to get to and dive.  I want this article to just give you a starting place for you to plan a Caribbean vacation diving trip around a special dive site or island, from that pick a dive operator or resort based on your needs. But indeed anywhere there are places to get away from it all you will have a dive site nearby with schooling blue tangs or a cruising turtle and the diverse culture that will entertain you for your stay.
The Bahamas
Wreck of the Bahama Mama, New Providence, Bahamas One of the better chances to see the Caribbean Reef Sharks that make the area home. If you miss the sharks then head over to Shark Dive, Nassau (Walker's Cay) there you are pretty much guaranteed a lesser natural environment and thus much less interesting to the author. If you are in Bimini then check Victory Reef and  Sugar Wreck, Grand Bahama Island.
For Nassau Steel Forest is not one nor two but three wrecks, situated together and have some great swim throughs for the more experienced diver.
Dominica
Such wonderful sites as the wreck of Nadine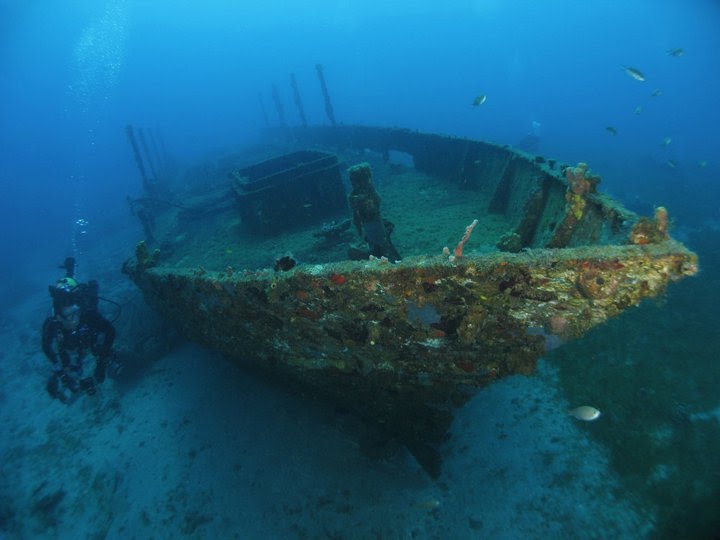 Dominican Republic
Toucari Caves a dive site in the Dominican Republic, great reefs with beautiful sponges. The resorts here cater for all inclusive style vacations the areas of Punta Cana and Puerto Plata. This means for families it can be a good destination though you should make an extensive search for the right resort.
The Cayman Islands
Grand Cayman : Snorkel and Dive with the stingrays of Stingray city ! This is more of a tourist type thing if you love rays you might like this but I think the tourist trap that it is puts me off personally. The North Wall further offshore is a wall formation dropping to 6k ft that offers many dive sites along the face. The walls allow you to drop in on the walls or more typically earlier to get everyone nice and chilled over a sandy bottom ! As a dm I wouldn't want to drop a new group straight in off a wall. However it can make for a great dive if the group are known. Switch to the east side of the island for a different kind of diving topography like canyons etc...Bloody Bay Wall, starting at 20 feet this wall dive is the best of Little Cayman
British Virgin Islands
RMS Rhone wreck, British Virgin Islands: In 1867 the wreck of the Royal Mail Steamer R.M.S.Rhone sank declared as underwater national park and is one of the most well known wrecks in the Caribbean. It's a great dive.
Bay Islands - Honduras
Roatan : Great sites like spooky channel, hole in the wall, Mary's Place, Blue channel and Texas all great different topographic dive sites. The diversity of the diving in Roatan makes the island a divers paradise. Try and find the Sargassum Trigger Fish found only on Texas a small blue trigger protecting its nest (not with any violence like the Titans found in other waters) Roatan is family friendly and also a great spot to learn to dive.
Diving with Whale sharks (Rhincodon typus) in Utila. Mostly sighted between the months of March-April and August-September though you may see them at any time it is a privilege to dive with the oceans largest fish. Some reports are than these behemoths can get up to 60ft in length though regular sizes are 20-30 ft. The area attracts whale sharks with a unique topography that they find attractive.
If giants of the blue are not enough of an attraction or you DO realise that they might not be around the week you are then there are some good dives to do as well and it is the cheapest place on the planet to get certified PADI with your utila open water license. This is great news and often you can stay for free if you are doing the course so it attracts a great Backpacker community. Utila is a small island and you should check to see if you might get bored with what is available to do on land though some people stay for the surprising nightlife and laid back atmosphere. Utila is also famous for the largest rave in central America Sun Jam which takes place on a small uninhabited (thankfully) Cay.
Turks and Caicos
The Turks and Caicos, West Caicos Wall : Cooler waters coming from the depths of 7000ft give rise to a great ecosystem attracting pelagic and reef fishes of all varieties. These walls are considered among the best in the world, they go down down down ! West Caicos is uninhabited so take a 35 min boat ride from Providenciales dock. Your local Turks and Caicos scuba operators will put you right.
Also if you're around Jan Feb or March French Cay plays host to humpback whales and you might get lucky. If not then sharks mantas may be an ok substitute. Again the Cay is uninhabited by humans and the boat trip is 45 minutes, so you might have to have a full boat of divers to get there.
If you would like to learn more about diving in the Caribbean then visit Caribbean Diving contact them to help you find the best vacation for your ideals they are experts in the region. Or just ask questions in the forum chaired by island specialists they will advise you on your unique questions. There is a plethora of information on Caribbean resorts and dive operators if you just want to discover the Caribbean it's a good start.