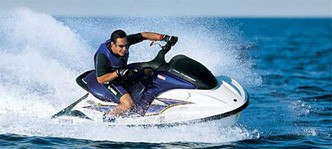 With the Caribbean Sea on its west side and the Atlantic Ocean on the east, St Lucia is the perfect destination if you enjoy spending time on, and in, the water! Most towns and attractions are located on the sea to take advantage of the beautiful natural beaches and outstanding views. This makes traveling around by boat rather than by road an exciting opportunity which leaves the island's possibilities wide open to you. With vast stretches of idyllic blue waters and a pictureque tropical coastline, St Lucia is ideal for exploring by water.
If the sea is important to you, the Bay Gardens Hotel would be a good choice for accommodation. It is situated at Reduit Beach in Rodney Bay, which is often called the best beach in St Lucia. Check out Saluna by the beachfront, a provider of water sports, activities and equipment. Catering for serious watersports aficianados, unsure beginners and those just looking for a bit of fun, they offer waterskiing, sailing, wake-boarding and jetskiing. You can choose whether to just hire equipment, or pay very reasonable rates for instruction and supervision until you find your feet.
For those who prefer a more relaxing experience, try hiring some snorkeling equipment to explore the tropical sealife and coral. Or if you want to stay above the water, Saluna offer pedaloes, paddle canoes and paddle boards at competitive rates.
When you've had your fill of your resort and the surrounding Rodney Bay area, catch a water taxi to take you to one of St Lucia's many attractions. They can pick you up from the shoreline and whisk you away to Pigeon Island's historical exhibits, the Gros Islet Friday street party or Soufriere's volcanic mud baths, to name just a few. They will wait while you enjoy new experiences, delicious meals or refreshing drinks and take you back when you're ready.
For a truly unforgettable experience, book a bespoke boat tour excursion. For half a day, a full day or to fit your schedule, the Saluna team will take you down the Caribbean Sea coast to destinations of your choice. With a wide range of refreshments and snorkeling equipment included, from just 100 USD it represents very good value for money. A full day on the water with a knowledgeable and friendly team, exploring all that St Lucia's coast has to offer will surely be the highlight of your trip and a memory that will last a lifetime.