4 minutes reading time
(710 words)
Relaxation, Health and Wellness in St Lucia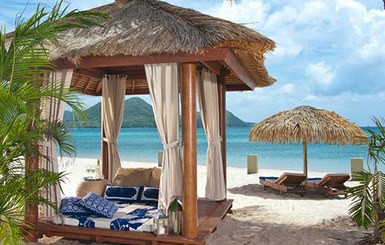 Everyone comes to the Caribbean for the weather, some come for adventure and excitement, but most come for relaxation and wellbeing. After a spa holiday in St Lucia, your feelings of health and wellness will last long after you leave the island. A truly refreshing and memorable experience awaits in this island with its breathtaking tropical scenery, beautiful beaches, luxury accommodation and qualified wellness experts.
The BodyHoliday in Cap Estate is the holistic health solution if you are looking for rejuvenation and relaxation from your holiday.
You can select a personal program, depending on your therapeutic needs while you are in St Lucia. Examples of programs on offer include healthy aging, stress buster, detox and rejuvenate, weight loss and smoking cessation, as well as an all-around health package. With therapists specializing in Ayurvedic techniques and reflexology, you can be assured of the variety and quality of alternative treatments. If massage is what you enjoy, you can enjoy the Marma, Thai, Balinese, Deep Tissue, Bamboo, Aromatherapy and Deep Barefoot techniques. If you attend with your partner, you can have a joint lesson to bond and destress together, learning Swedish massage techniques to use back at home. There are also yoga, Pilates and tai chi classes to participate in, and private tuition is available if you prefer to learn by yourself.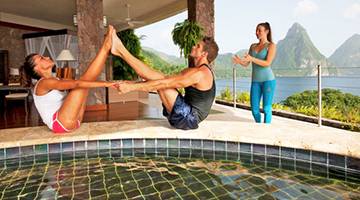 Other treatments on offer include hot stone experiences for the face and body, a range of exotic wraps, the coconut milk wrap being a popular choice, body sculpting and hopi ear candles.
With a huge team of well-qualified spa professionals, the BodyHoliday also offers a full range of beauty services including waxing, manicures, pedicures and a range of specialized facials. You can relax in the luxury hair salon and take advantage of their caviar hair treatments, or, if you prefer, enjoy a full makeover that will improve your makeup, style and confidence.
The BodyHoliday, with their focus on health and wellness, realize the importance of fresh, local food. In all of their restaurants, from the casual beach bar to the AAA Diamond Awarded TAO Restaurant, local ingredients are used wherever possible, and some are even grown on site.
If you aim to shed a few pounds while on holiday or just improve your fitness, The BodyHoliday also offers tennis, golf, fencing, waterskiing, volleyball, archery, scuba diving, archery, sailing, swimming and a full gym with a range of different machines, so there is no chance of running out of things to do!
After sampling the wide range of activities on offer, you will want to relax at the hotel's private beach, a beautiful oasis of calm with palm trees and clear waters.
An alternative for those seeking relaxing spa treatments, and particularly romance, is Kai Mer Spa at Coconut Bay. Just minutes from the International Airport in Vieux Fort, Coconut Bay Resort offers an excellent range of therapeutic treatments. Those who seek romance and serenity can check into Harmony, the adults only section of Coconut Bay, which boasts sundecks for two, an adult pool and bar, and spa facilities yards away from your accommodation.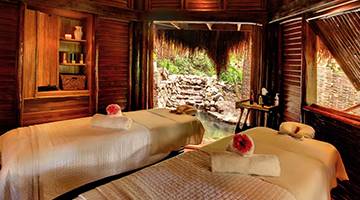 Offering a full range of massages, facials, body buffs and restoration wraps, the spa also caters for couples with specialized massages, champagne and chocolates, and an idyllic view with oceanfront cabanas. For the most romantic option, book a moonlight massage to enjoy the warm Caribbean evenings.
Coconut Bay also offers tennis, yoga, aerobics, a fully-equipped gym, windsurf hire, and for the most adventurous of us, kite surfing lessons.
There are many other options, including the Red Lane Spa at Sandals Grande and a large number of independent spa services that take your St Lucian experience to new heights of relaxation. Coming to St Lucia could be just the break you need to escape the stress of everyday life and take time out for yourself. Here you will meet professionals who understand the importance of your wellbeing and will help you to relax and unwind.
This island is an extremely popular wedding and honeymoon destination, and whether you've been a couple for a few months or many years, St Lucia could be the perfect place to deepen your bond, strengthen your relationship and create beautiful memories that you will remember for a lifetime.
Images courtesy of stluciaholidays.net and kenwoodtravel.co.uk
Comments
No comments made yet. Be the first to submit a comment
By accepting you will be accessing a service provided by a third-party external to https://caribbean-diving.com/