6 minutes reading time
(1196 words)
Top 10 things for kids to do in St Lucia
It was not all that long ago that Caribbean holidays were only accessible to the wealthy and required multiple flights and airport transfers. With the international travel market changing so drastically in the last few years, Caribbean breaks have become far more accessible, particularly for families. Prohibitively high flight costs have now dropped dramatically with the rise of budget providers such as Thomas Cook and the emergence of plenty of competition keeping the prices down.
Now that St Lucia has become affordable for those with children, other concerns come to the fore. Well established as a romantic honeymoon destination with three Sandals resorts and plenty of other adults-only hotels, parents may worry if St Lucia offers enough to keep their little ones occupied.
Here we run down 10 activities that families with kids can enjoy whilst soaking in the beauty of this tropical paradise.
1. Splash around at Coconut Bay's water park
Frequently thought of as the best hotel in Vieux Fort and just two minutes' drive from the airport, Coconut Bay Resort is great for families with young children. Their water park is particularly spectacular and the only one on the island. Kids (and brave parents!) will love zooming down the great selection of waterslides.
There are also lazy rivers and wading pools for chill-out time, and for the ultimate in relaxation, try the swim-up bar, where children can gulp down mocktails along side their cocktail-sipping parents.
2. Go whale watching
Try Hackshaw's Boat Charters or any other recommended provider for a whale tour. Your experienced tour operators will zip around the sea to track humpback and sperm whales, dolphins and even orcas, all for your viewing pleasure. Of course, there's no guarantee that the majestic creatures will be around when you are, but these experts have an excellent track record and will do everything they can to try and seek them out.
To avoid disappointment, make sure you book before you arrive on the island as these tours are popular and can get booked up very quickly.
3. Watch how chocolate is made at Morne Coubaril Estate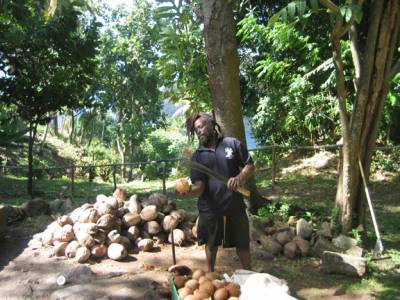 Get the chance to tasta a ripe cocoa bean at Morne Coubaril Estate, a working plantation. Get to know the processes of fermentation, drying, and the cocoa dance, which all come together to create the chocolate we know and love.
You'll also see replica huts in the style of 1800s villager settlements and the Monplaisir family's estate house.
Other demonstrations will show how manioc is processed to make a filling local favorite, cassava bread, and how coconut is husked and dried. You'll also get the opportunity to have a taste of coconut water and jelly. A mule-driven sugar cane mill is the last stop on the tour, where you can sample fresh cane juice straight from the plantation.
The tour being just 30 minutes long, it is perfect for children with short attention spans!
4. Learn to sail at Sugar Beach
For young people aged 10 to 17, the Sailing Club is the perfect place for first-time sailors to get acquainted with boat handling and all that goes with it. The Anse des Pitons area of Soufrere in which the club operates offers optimal conditions for learners to begin their journey into sailing theory and practice.
Using 3.5m Laser Pico sailboats, instructor Dylan Charles, a young sailor himself who has participated in several regional regattas, will introduce your kids to sailing over 5 to 6 days. On successful completion, they will be awarded a certificate and be ready to take part in intermediate sailing classes.
5. Join the Kids Club at the Landings
There's plenty for kids to do at the Landings Resort in Rodney Bay. Their kids' club offers a huge variety of activities such as picnic trips, Patois classes, beach sports, movies, sand sculpture competitions and steel pan lessons for children aged 4 to 12.
6. Go horse riding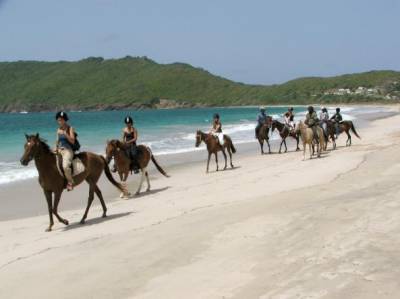 Try Atlantic Stables for a tour through the rugged Eastern coastline on horseback. There are plenty of stables dotted throughout the island that can offer experiences for beginners and seasoned riders alike.
Speak to the professional staff about your requirements beforehand, so they are adequately equipped to assist young or inexperienced riders in any way they can. The horses in St Lucia are friendly and well-trained and are used to riding across all kinds of terrain including the beach.
7. Go turtle watching
After a long, bumpy drive to the almost untouched Northeasterly part of the island, you will come to Grande Anse beach. An exciting adventuree for older children and their parents, groups camp out at the beach, waiting for the arrival of the endangered leatherback turtles. Watching these creatures, the size of small elephants, dig the sand and lay their eggs has to be a once in a life time experience. This is the largest reptile in the world, which has become endangered through climate change and pollution, and the St Lucia National Trust is working hard to protect it.
8. See the island from above in a rainforest Aerial tram
... or fly through it on a zipwire!
Rainforest Adventures St Lucia offer a whole range of tours and experiences for all the family. Their Aerial tram tour takes you through the rainforest in open-air gondolas, with a Nature Interpreter on hand to explain all the exotic flaura and fauna you can expect to see on your way up. It includes an easy walk of their Fern Nature Trail, and the descent offers panoramic views of St Lucia, the Caribbean Sea and the Atlantic Ocean.
Zipline tours that include 18 platforms, a Tarzan swing, floating stairs and other adventurous features are available during the day or under the moonlight for a totally different experience. Children over 12 and their families can experience bird watching tours and the Jacquot trail hike.
9. Take a family dive holiday
Kids Sea Camp has its base at the Anse Chastanet Resort in Soufriere, on the Southwest of the island, as part of the Scuba St Lucia PADI Five Star Dive resort. A week-long holiday experience, it allows families to enjoy the experiences of Scuba and snorkelling together, as well as a huge amount of other beach, social and sporting activities throughout.
With pizza movie nights, boat trips, jungle biking, family poetry sessions, night dives and night snorkels, Kids Sea Camp holidays has a wide variety of exciting activites for divers and non-divers.
10. Go to the beach
No Caribbean holiday would be complete without plenty of beach action! The best sandy beaches are on the West side of the island that is lapped by the Caribbean Sea.
Try Reduit Beach in Rodney Bay, the huge stretch of beach that joins Gros Islet up with the Sandals Grande, and Vigie Beach just two minutes from Castries, just to start with. You can also visit the beaches of any hotel, as beaches come under a Crown Land classification in St Lucia and are therefore open to everyone.
For black sand beaches head to Soufriere. Pigeon Island at the very northern tip has two quiet, family friendly beaches that families can enjoy.
Images courtesy of kenwoodtravel.co.uk, coconutbayresort.com and montenegro.com
Related Posts
Comments
No comments made yet. Be the first to submit a comment
By accepting you will be accessing a service provided by a third-party external to https://www.caribbean-diving.com/