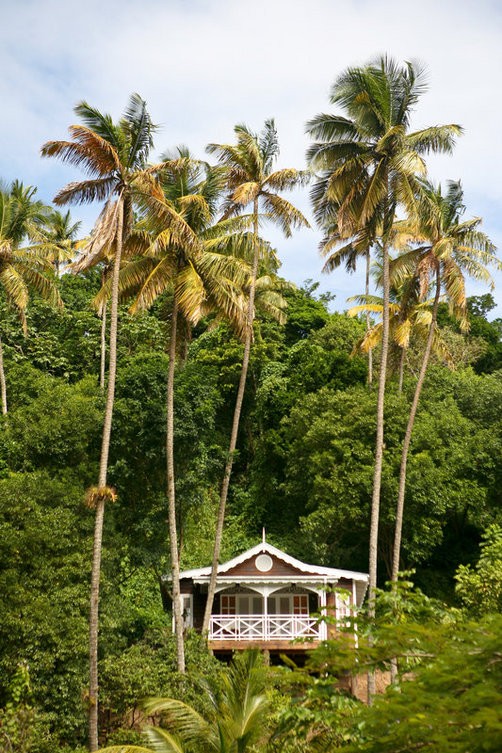 St Lucia is known for its lush vegetation, authentic Creole culture and its reputation for romance. If you are looking for a unique experience far away from the tourist hotspots, Fond Doux Plantation & Resort is a choice sure to satisfy your need for peace and tranquility. Visited by Prince Charles and Camilla in 2008 and rated number 2 Plantation Hotel worldwide by The Guardian newspaper, the Resort has attracted worldwide praise but still remains a private and serene hideaway.
Fond Doux is a 250-acre working plantation that primarily produces cocoa. Nestled within its flourishing greenery are fifteen private cottages that offer the best in St Lucian luxury. Crafted from wood by expert local artisans, they have been designed to enhance the beauty of the natural surroundings and create a romantic and intimate feel. With choices of 1 bedroom cottages, honeymoon suites with private plunge pools, and 2 bedroom cottages, there are plenty of options for every budget and preference. They have names like African Tulip, Cinnamon Cottage, and Hilltop Guava, which perfectly reflect the rich agricultural heritage and local produce of St Lucia.
Fond Doux Plantation has two restaurants. The Cocoa Pod is a more casual restaurant open for breakfast, buffet lunch and dinner. The Jardin Cacao offers a la carte lunch and dinner. Both restaurants serve chef-prepared Caribbean and International cuisine, using locally-grown foods from certified organic farms. Understanding the importance of atmospheric dining, Fond Doux have placed their restaurants to benefit from optimum light, shade and tropical breezes. Dining among the lush gardens surrounded by flowers and fruit trees, you will feel worlds away from the busy pace of everyday life.
For further relaxation, Fond Doux have created a boutique spa experience for you to unwind while immersed in nature. Designed to rejuvenate your body, mind and spirit, Mamma La Terre spa offers a wide range of treatments including a full range of massages, scrubs and wraps. The spa's name means 'Mother Earth' and Fond Doux show their eco credentials by using all-natural, organically grown ingredients for their treatments. The proximity to the volcanic sulphur springs in Soufriere allows the spa to make use of its healing mud in its treatments, said to improve both the quality of the skin and peace of mind.
There are a variety of beautifully-designed outdoor swimming pools set in tropical scenery and equipped with comfortable seating areas, with both shaded and direct-sun options. Some accommodations come with plunge pools and veranda areas, so you can unwind right in the heart of St Lucia's natural paradise.