In this section of the website we talk about the things to do in Anguilla. What it is known for and what to see.
The following activities are available in Anguilla most of the year but do check for seasonal lows.
Scuba Diving
See our diving shops in Anguilla or our detailed scuba diving guide.
Golf
An 18 hole PGA standard course designed by Greg Norman.


Weddings ! Get Married in Anguilla !
Anguilla is a favorite place for couples wanting to plan a caribbean wedding of course in a romantic beach front setting.Other locations include typical caribbean idylic churches, on a private island setting or on a boat, anywhere that appeals within reason even underwater Scuba Weddings ! Getting married on the island is straightforward and most hotels have their own packages. The larger villas such as Cerulean and Temenos will tailor make your wedding and are great as an Anguilla honeymoon villa. The management and staff will ensure that everything is organised in advance, from start to finish. They can provide anything you need, from catering services to procuring the marriage licence, sorting out entertainment and photography, and providing a decorating service.
Deep sea fishing
From 700 USD per day you can go out fishing for tuna wahoo, dolphin fish (mahe mahe not dolphins) swordfish and marlin to name a few. One of the few charters in anguilla is nature boy fishing.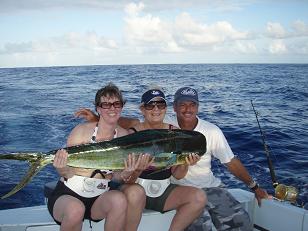 Sailing trips
There are a few day sails around at best or the odd sunset cruise.
Para-sailing, Windsurfing, Water-skiing
Organisable on the beach. windsurfers will find good winds off the northeast of the island at Captains Bay. Kitesurfing has not yet come to Anguilla
Take a course from Tennis to Cookery instruction and Pottery and Sculpture lessons.
A full program of Spa Treatments at your resort or find a Spa.
Sightseeing
There isn't anything so specific to see you can enjoy many walks of your own creation on the beach and inland however.
Hiking / Walking
Try Sandy Ground Area and its Salt Pond.
Take a historic tour of The Valley the Capital, available every Tuesday and Thursday, and also enjoy a guided rainforest tour.
Birdwatching
Art Gallery Tours Explore more than a dozen galleries of local artists.
Swimming With the Dolphins
If Anguilla had some drawbacks you might note that you cant go on an extended land trip into a rainforest (though it does have Katouche Bay a reasonable hike) that you could find in some Caribbean Islands. It is a specialist Island. But there are some trails for walking and hiking of note the Sandy Ground area and salt pond.
Image Source
©Scott Ableman Flickr CC-BY-SA-4.0
Anguilla's Special Events

The Summer Festival, boat racing fireworks and calypso music in the streets as Anguilla does its Carnival ting !