If miles and miles of pristine white sand beaches meeting warm, turquoise water is your idea of paradise, then Aruba might just be heaven on earth. Located approximately 18 miles off the coast of Venezuela, in the southern Caribbean Sea, Aruba enjoys nearly year-round sunshine and average daily temperatures of 28C/86F, making it a true beach-lovers dream. In fact, with 21 named beaches (and countless unnamed and secluded spots), you can spend virtually all your time with your toes in the sand, soaking up the Aruban sun.
Aruba's Most Popular and Best Beaches
Aruba boasts the number one Caribbean beach, according to a USA Today survey of travel agents and travel writers. Eagle Beach, located in the "low rise" hotel district comprises miles and miles of white sand stretching endlessly to an impossibly blue ocean. Where sea meets sand you will find gentle surf, suitable for families with small children. Even on its busiest day, due to Eagle Beach's immense size, the beach never feels crowded. Get there early, though, if you want to nab one of the free shade palapas, as they tend to be quickly claimed by families intent on spending the entire day frolicking in the crystalline water.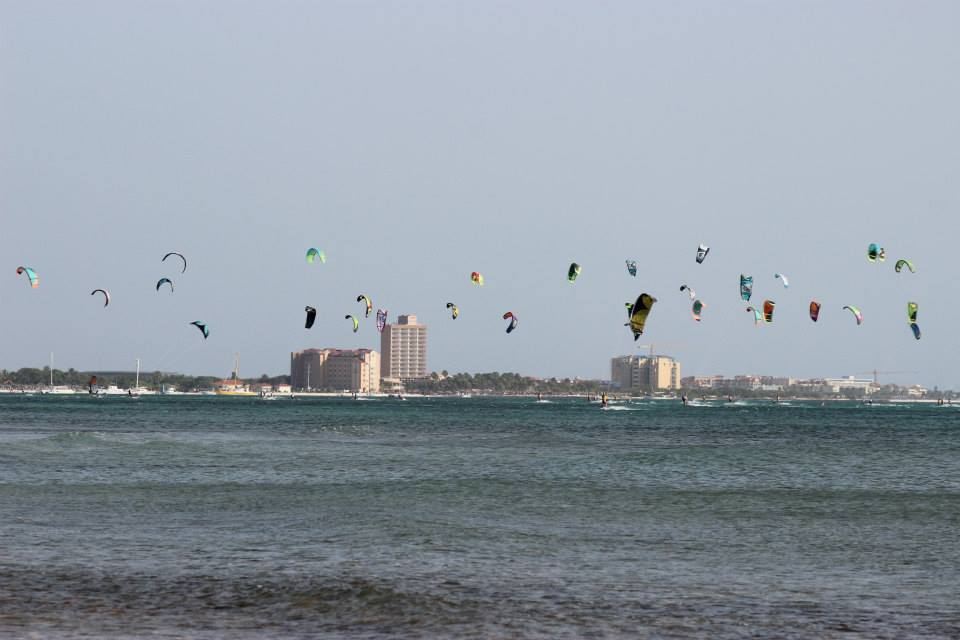 Another very popular beach for families is Palm Beach, located in the "high rise" hotel district. With major hotel chains like Marriott and Holiday Inn as a backdrop, beach lovers here need only stroll out of their accommodations, find an available beach chair and spend the day enjoying water sports and people watching, all while taking advantage of beachside drink service from hotel staff. Palm Beach tends to feel a bit more condensed, as there are a number of water sports operators and beach restaurants close to the shore.
You will find the windsurfers and kiteboarders doing their thing at Hadicurari Beach.
This beach is located just north of the newly built Ritz-Carlton resort complex and offers windsport enthusiasts the opportunity to rent gear and take lessons. While you won't find pool boys serving cold cocktails to your loungechair here, you will find a laidback surfer vibe.
Shopping and Dining on Aruba
But it's not all about the beaches on this tiny Dutch island. Even the most intrepid sun worshippers sometimes leave their beach chair in search of something new. Once you head inland from the beach, you will find world-class shopping on Aruba. Starting in downtown Oranjestad, luxury shoppers will find well-known chains like Louis Vuitton and Cartier, as well as specialty boutiques offering an array of one-of-a-kind items.
If you're more surfer-girl than fashionista, a must-visit store is Bula Surf Shop. This famous surf shop adopted the phrase "Dushi Yiu!" as its slogan, which means "sweet life" in the local dialect. You'll find this phrase emblazoned on t-shirts, caps and decals – perfect for decking out your surfboard back home.
If you're hungry in Aruba, you can find just about every type of restaurant to satisfy whatever it is you are craving. From popular US-chains like Starbucks and McDonalds to unique regional fare and even five-star dining, there are so many restaurants on Aruba that you may go home a few pounds heavier than when you arrived. Most of the nicer restaurants require reservations, so plan ahead to ensure you aren't disappointed.
Other Things to Do in Aruba
Aruba offers several golf courses for those who prefer to hit the greens. Tierra del Sol Resort, Spa and Country Club is located on the northern tip of the island and offers panoramic views of Aruba's rocky and undeveloped east coast. The Links at Divi Aruba is located in town at the Divi Aruba resort.
If exploring Aruba's rugged east coast is more your thing, then rent a 4x4 Jeep and head off-road. There are a series of dirt roads crisscrossing the undeveloped side of Aruba. Make sure you take water and know how to change a flat tire, though, as the conditions can change unexpectedly. But the adventure is worth it, as Aruba's east coast offers spectacular vistas of jagged coastline and crashing surf – a photographer's dream.
When To Go to Aruba
Aruba offers warm air temperatures and strong tradewinds nearly year-round, making it an excellent escape from colder climates almost anytime. November and December tend to be a bit rainy with a bit more cloud cover.
If you want to avoid the biggest crowds, skip the Christmas holiday and the summer vacation months of June, July and August.
Where to Stay in Aruba
Aruba Sunset Beach Studios is located 100 meters from the ocean and offers 13 ocean and garden view studios plus a salt-water swimming pool and jacuzzi. Rates start at about $90 USD per night. www.aruba-sunsetblvds.com
For travelers with a bigger budget, the newly-opened Ritz-Carlton is perched in between Palm and Hadicurari Beaches and offers stunning 180 degree vistas of the Caribbean Sea, which is located mere feet from your room. www.ritzcarlton.com
What to Do in Aruba
Tierra del Sol golf course offers an 18 hole course designed by renowned Robert Trent Jones II. www.tierradelsol.com
Kitesurfing Aruba offers lessons and lodging directly on Hadicurari Beach, also known as Fisherman's Huts. www.kitesurfingaruba.com