The flag shown above is the dutch Antilles flag. This is the Bonaire flag below.
Bonaire is the B in the ABC's the Dutch Antillies and doesn't have the tourist pull of its smaller neighbour Aruba ! That's a tip :) Its really for the divers here Aruba seeing many other regular tourists. You can kayak through the mangroves or learn to windsurf (5 times declared the best place to learn in the world), Sorobon beach a 1 metre deep bay with onshore winds. Interestingly KLM allow an easy link up with Ecuador and Peru for a 2 centre holiday.
Getting to Bonaire
You can access the many flights via Amsterdam or from North America via Houston, Newark, Atlanta then of course closer to Bonaire is Aruba, and Curaçao. Check if coming via the Central American locations as things change often. Take a look at the carrier links on this flights to Bonaire page for more.
Suba diver descends the actual 72 steps to the water at 1000 steps dive site. More info here.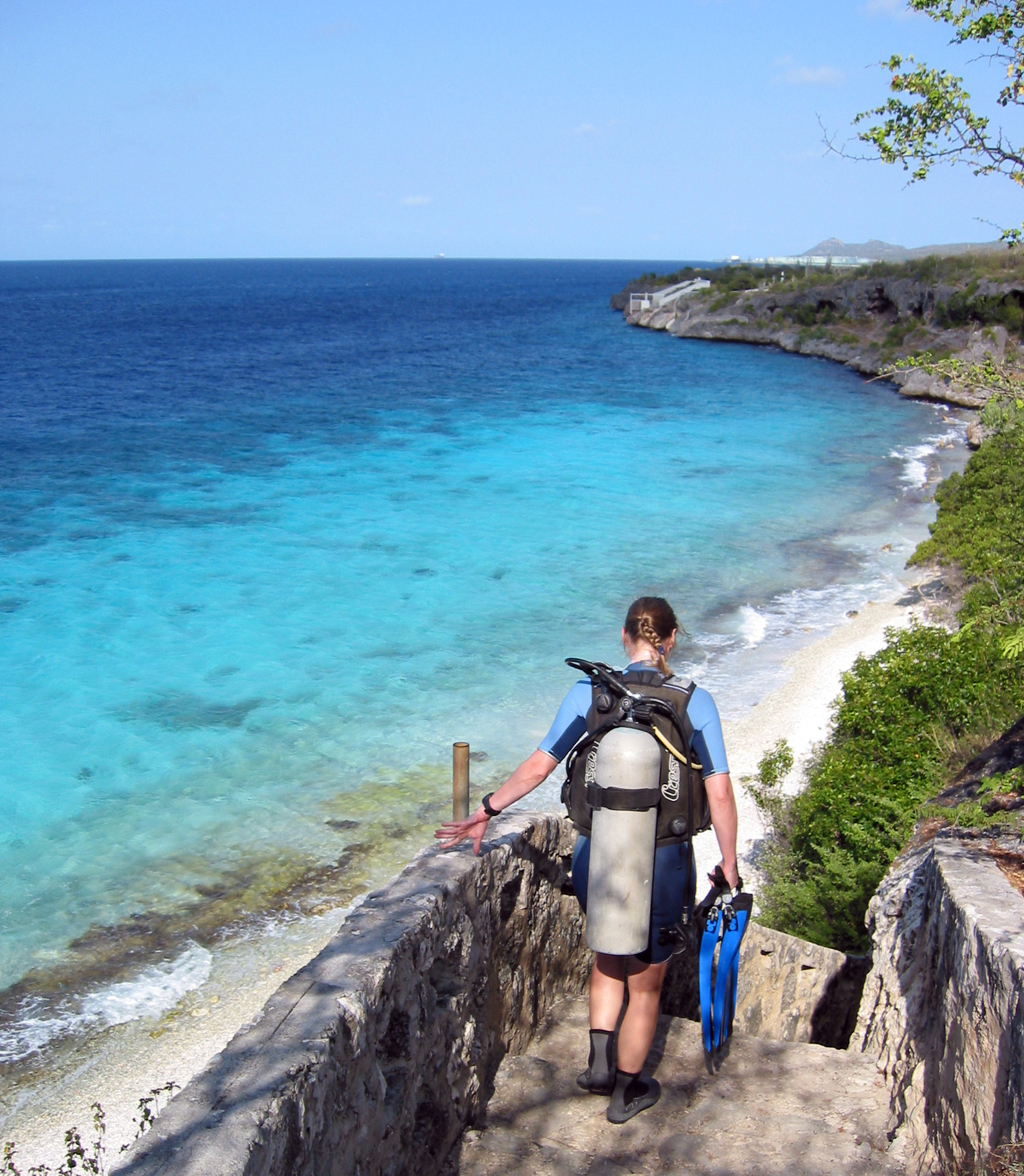 Geography
'Close' by is Central and South America - Venezuela sits about 50 miles south. Dutch celebrities prefer Bonaire.
Diving in Bonaire
Bonaire still winning serious awards - see this article in http://www.scubadiving.com/travel/caribbean-atlantic/2012-top-100-readers-choice-awards
Diving 86 official dive sites surround the island some close enough they are shore dives marked by yellow painted stones ! Boat diving isnt far out. You must pay a fee to dive here of 10 USD. They look after the diving here as if you havent dived here since a year has to do an induction course for park regulations and orientation. Dont miss the nightdive around the pier at Kralendijk (the island capital) for its sponges seahorses. The wreck of Bonny Mary sits at 200 ft so one for the techies as its too deep for sport divers. One that can be dived is the Hilmer Hooker see more details on that link but she certainly has a strange history being used to smuggle drugs on her lst voyage sans papers !
Places of Interest
Klein Bonaire is an unihabited by humans and has no facilities. It has passed back under national control after mistreatment by its private owners removing the trees and increasing the natural erosion. It is flat and is popular with kayak enthusiasts and divers. There are some remnants of slave buildings but thats about it.

Following fighting with the Spanish the Fort Oranje was built in the capital, its well kept but quite basic as an attraction so consider this if you like the history only. Check out the capital Kralendijk.
Bonaire Today
Interestingly late 2010 saw a vote to decide on the future of Bonaire and there was a big majority who voted Bonaire to become a part of the Netherlands, however not enough people actually voted and so it was decalred null and void. It remains today a municipal of the country of the Netherlands. The economy in Bonaire is mostly made up of tourism from snorkel fans to die hard Scuba nuts and then there are the windsurfers or general dutch sun worshipers. You can find vacation rentals along with tarditional resorts and specific Diving Resorts.
According to the REEF Reef Environmental Education Programme Bonaire has more species of reef fish than anywhere else in the Caribbean - more than 350. Tarpon can be seen as well as the usual suspects turtles parrot fish,chromis, seahorses,snappers etc
When to Go Diving is clear and calm all year. Water is in the high 20's all year.
Originally inhabited by the caquetio indians who were a kind of Arawak indian. Today Bonaire is a municiplatity of the Netherlands. The Dutch surprisingly have this island firmly ensconced in its tropical destinations lists.
A great video of a vacation in Bonaire by Terry
Bonaire Resources
http://www.visit-bonaire.eu/pagina.asp?pagina=3&website=bonaireeng

www.visitbonaire.tv