Bonaire, a tiny island located below the hurricane belt in the southern Caribbean, enjoys a well-deserved reputation as the shore diving capital of the world. In fact, the license plates of this special Dutch municipality proudly proclaim Bonaire as Diver's Paradise and with good reason.
With miles and miles of accessible shoreline and a fringing coral reef that circles the entire island, scuba divers visiting Bonaire enjoy an independence and freedom not found in most dive destinations. In fact, divers can enjoy more than 60 marked dive sites without ever stepping foot on a dive boat. The only things required to take full advantage of Bonaire's world-class shore diving are a rental truck, a good pair of hard-soled dive booties and an adventurous spirit.
Hire a Jeep and go diving in Bonaire ! You are more likely to visit your dive site by jeep than by boat - shore diving is king in Bonaire.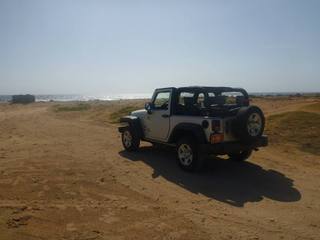 The terrain of this boomerang-shaped island provides a variety of experiences for divers of all skill levels. From the shoreline cliffs in the hilly north to the pancake flat landscape of the far south, divers can easily find a shore entry and underwater topography to suit them. Divers searching for large hard coral formations enjoy diving sites like Karpata and Tolo in the north, while those in search of gorgonians and soft corals head south to Vista Blue and Margate Bay.
Because of Bonaire's orientation to the prevailing tradewinds coming from the east, the entire west coast of Bonaire enjoys extremely welcoming dive conditions. Warm water, excellent visibility (often 100+ feet) and little to no current provides a level of diving ease not found elsewhere. And while the fringing coral reef provides dives ranging from 20-120 feet in depth, the most diversity is found between 20-60 feet, making Bonaire an excellent choice for novice open water divers.
Of course, for advanced divers, Bonaire also offers more challenging options. One of the most popular is the wreck of the Hilma Hooker, a cargo ship with a colorful history. Abandoned in Bonaire's port and later found to be holding 25,000 pounds of marijuana, the ship was relieved of its cargo by local authorities and then intentionally sank off the southwest shore of the island. Lying on her port side in 100 feet of water, the Hooker (as she is affectionately referred to) provides an interesting dive for advanced divers. However, because of the usually excellent visibility, even novice divers can enjoy a bird's eye view of the Hooker from a moderate depth of 60 feet.
The truly adventurous divers often head to Bonaire's "wild side" for a chance to see the big stuff like green moray eels, spotted eagle rays, turtles and even an occasional shark. Because of the heavy seas that can be found during the windy months on Bonaire's east coast, diving this side of the island is best done by boat, although in September and October, shore diving can be done when conditions permit.
If you need a break from diving, Bonaire's steady and reliable trade winds also make the island a mecca for wind-sport enthusiasts. Windsurfers enjoy the shallow, calm waters of Lac Bay, while kitesurfers take advantage of the consistent offshore wind and flat water found at Atlantis "Kite Beach" on Bonaire's southwest shore. Beginners in both sports can take lessons offered by reputable schools, while experts can push their limits in the perfect conditions found nearly year-round.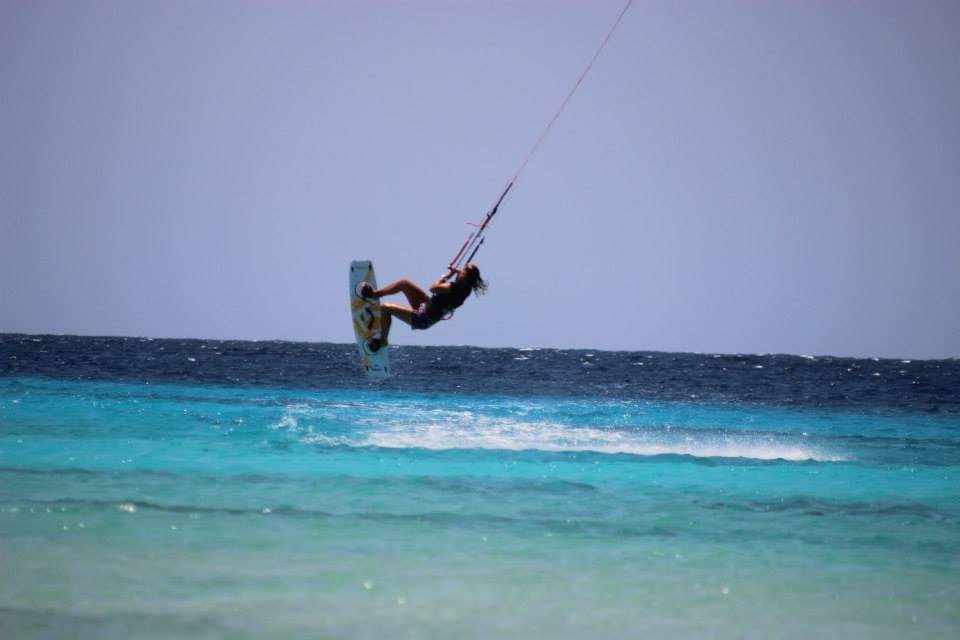 A Kite Surfing Stunt in Bonaire
Kite surfing trick bonaire.
When to Go To Bonaire
Water temperatures average 82-86F between May-December and 76-80F between January–April.
Trade winds blow consistently from January through April and are fairly consistent between May and August. September, October and November tend to see lighter wind, with December considered the rainy season.
Dive Services in Bonaire
Dive Friends Bonaire, a PADI five-star dive center, offers unlimited shore diving air packages, and daily two-tank boat dives to Klein Bonaire with special trips to the North on Wednesdays. www.dive-friends-bonaire.com
Try diving Bonaire's "other coast" with Bonaire East Coast Diving. Captain Hans and his crew will safely take you to memorable dive sites on a Zodiac Hurricane 920 specifically designed for diving the "wild side" of Bonaire. www.bonaireeastcoastdiving.com
Bas Kulderij recommends his best dive sites in Bonaire
- Site #1 Boka Bartol - difficult to get in, only possible in low wind and waves. Always ask the ranger at the entrance of Washington Slagbaai park if it is possible.
- site #2 Boka Slagbaai - easy entrance and pretty dive site.
Both these sites are in Washington Slagbaai National Park. Which is anyway a good place to visit. It is a day trip to visit these 2 sites.
Just outside the park is divest "Taylor Made", this is not registered on the official dive map, but is close to site #7 Nukove
- site #9 Karpata - Super place to dive, almost always turtles, beautiful corals and big fish.
- Site #16 1000 steps, world famous dive site, due to its "1000" steps down (its not a 1000 steps, but people that are not fit, shouldn't go there.
#17 and #18 (Webers Joy and Jeff Davis) are both SUPER beautiful.
Sites #22 and #23 (Andrea 1 and 2) - always nice.
Site #26 - beautiful! Especially during a night dive when you often see Tarpons along the coral wall.
The sites close to Kralendijk aren't the pretties ones, many boats, ankers, broken corals.
Better to go a little further south, past the airfield.
#36, #37, #38: Windsoch, DonkeyBeach and Bachelor Beach: all very easy access.
#41 Punt Vierkant: beautiful place to dive, but be careful of possible currents, but those also bring big fish like barracuda's etc. Take notice of the weather, wind, etc before you go here.
#42 The Lake: Super place: large sandy spot with big chance on Eagle Rays, turtles etc. plus a nice reef.
- #43 - Hilma Hooker Wreck. Very safe wreck to dive with a maximum depth of 30m, both during the day time and also as a night dive.
#44, #45, #46 and #47 are all very pretty, there is a double reef, about 25 meters apart. Usually you can see the 2nd reef past the sandy patch.The 2nd reef is slightly deeper, lots of things happening on the sandy patch in between. Maximum depth on the sand is about 35meters. Experienced divers can visit the rear site of the 2nd reef. Not the prettiest coral, but a good place for big fish.
- #49 Salt Pier: SUPER place to dive. When there is no boat on the pier, you are allowed to dive here. Beautiful diving between the poles of the pier.
All sites from #50 - #59 are very pretty, and usually easy to find one where you are the only divers in the water.
#60 and #61 are Red Slave and Light house, beautiful places, but not for beginner divers. Only dive here with good weather and low wind. Current can be really strong here.
Then the east coast. Easiest to do this is with Bonaire Eastcoast Diving. They run daily dive trips with their boat.
Also:
Go kayaking/snorkling in the mangroves with www.mangrovecenter.com Learn about the mangroves and the birthplace for all the fish.
See this video: https://www.youtube.com/watch?v=NViXIKhFR8w
Windsport Services in Bonaire
Jibe City offers windsurfing lessons and equipment rental in Lac Bay, as well as a webcam showing current conditions in the bay. www.jibecity.com
Bonaire Kite School offers daily kitesurfing lessons at Atlantis "kite beach". www.bonairekiteschool.com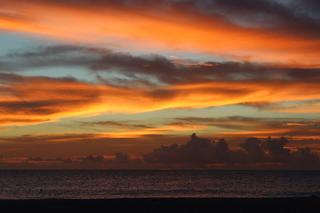 A sunset and diving holiday to remember.
Hilma Hooker is one of the favourite dive sites in Bonaire. The wonders of the undersea world have been looked after by the Bonaire Marine Park and hence why Bonaire Scuba Diving is among the best diving in the Caribbean. The wreck of the Hilma Hooker is perhaps one of the better dive sites. It has a max depth of around 30 m and is suitable for intermediate divers.