A starter guide for researching hiking in Dominica.
Waitukubuli National Trail - 115 miles from north south of Dominica - split into sections thank goodness taking in the majority of the island. more..
Morne Trois Pitons National Park - culminating with the Morne Trois Pitons of four and ahalf thousand feet is the 16,000 acres of protected national park. This area holds the best hiking to be had in Dominica. Volcanic Fumaroles and hot springs exist within forrests and woods. It s equally great because there are many very short walks to be had that end with stunning tourist attraction like Trafalgar Falls and Emerald Pool.
Challenging Hiking!
Of course a hiker really wants to feel challenged and there is of course more challenging hikes to Boeri Lake and Middleham Falls. To do those tow start from the town Laudat which itself is 3.5 miles NE of Roseau . Dont miss the Boiling lake on your trip either.Laudat is at 1970ft already. Freshwater Lake is 2500ft up a 2.5 mile trail.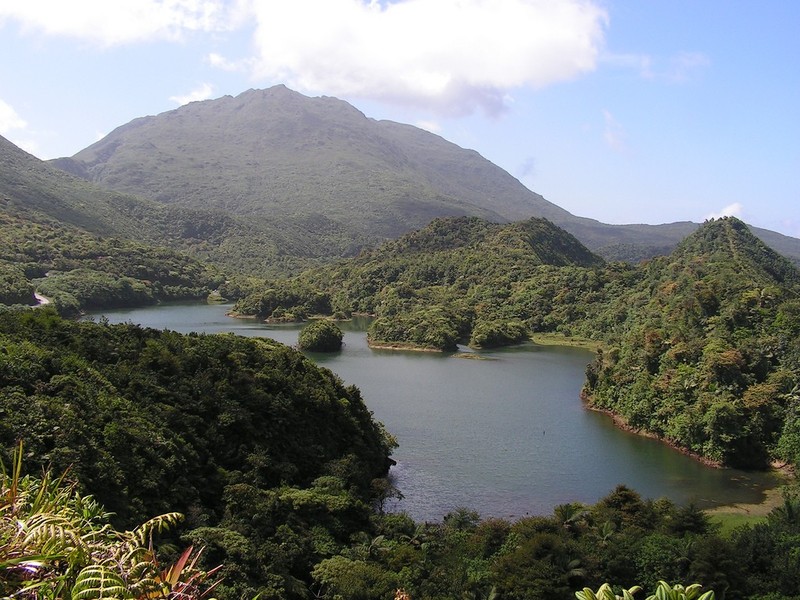 Boiling lake is a full days hike 6 miles round trip taking approx 7 hours to complete. Its a large cauldron of the witch gods or a flooded fumarole - the 2nd biggest in the entire world ! you will also get some spectacular island views from some of Dominicas highest points before the next major trail point known as the Valley of Desolation onwards to pool where you can bath in a natural hot spring around this part of the hike you will get most value from your obligatory guide - negotiate your fees before the treck and be clear. Again the accomodation will have good information on a good guide.
You are welcome to hike by yourself but could also take a guide. Your local accomodation will advise on this closer to the time if you need it or they will simply tell you how to get started hiking in Dominica.

If you are not so able or plain lazy then the Aerial Tram leaves from Laudet where you can get to see some of what everyone else sees as it does a 90 canopy tour.
The biggest issue is getting to Laudat cheaply from Roseau the 8 miles takes 35 minutes of driving tight hairpins.
More reading on hiking in Dominica