- Hi Jason, and thanks for your time to chat with us at Scuba Herald, Jason tell us about who you are and what is Underwater Sculpture?

I am a British Sculptor/Diving Instructor. 32 years of age, currently resident in London. The underwater sculpture gallery is a project aiming to create a unique space which highlights environmental processes and explores the complex relationships between art and its environment. By creating an artificial reef of sculptures, the ultimate aim of the project is to form a platform to promote the re-generation of marine life and use sculpture as a means of conveying hope and environmental awareness

- How does a young english artist end up spending his time diving in the carribean and setting up underwater sculptures?

I ended up teaching diving in Grenada and I thought I might as well seize the opportunity while I could. I have had the idea of a underwater sculpture park for over 8 eight years and finally found a opening. It had the perfect location and the support from diving community and government. It is also an island of exceptional beauty and I found it very inspiring.
- What came first for Jason Taylor, your love for diving or your passion for sculpting.... tell us a bit about your diving experiences and when you became an instructor

I lived in Malaysia when I was a boy and spent most of my time after school exploring the local coastline.This started my love for diving. Gaining my OWSI in 1994, I have dived extensively in Australia, Philippines, Rea Sea and the Caribbean. Moving to the UK in my teens I started becoming interested in public art and sculpture, devoting the next four years to completing my degree. It just then seemed like the natural conclusion to combine both these elements. In 2001 I lived in Australia. Completing my IDC with Tony Fontes in Airlie Beach, Queensland. Continuing to work as a Dive instructor for Deep Sea Divers Den and Pro Dive, Cairns.

- How's the creative process to start one of your projects? How long does it take you to produce each artwork and tell us about the logistics from the moment you think of each project to the moment the sculpture lies underwater.

The idea for a piece usually comes at the most mundane moment, stuck in a traffic jam, washing up, whenever my mind is left to wonder. I then develop drawings and Marquette's, photograph and then overlay the image on the underwater site photo. To see how it looks. Huge amount of research then goes into how the object will be secured to the ocean floor and what materials it will be constructed from. I then cast the figures in my work shop and then organise transport to the site. (see page PROCESS on website http://www.underwatersculpture.com/) The largest piece is Vicissitudes which weighs over 5 tons and covers an area of 25sq metres. It took 3 months to construct and a week underwater to assemble.
- Tell us about the work you are doing at the moment in Belize and the Underwater Sculpture Park

I do not have any plans for work in Belize, although there might be a installation of a piece in a Lake in Guatemala, yet to be confirmed.

- What are the sort of conditions do you need to setup the sculptures, can your scultures survive in any sort of Oceans and temperatures?

Yes, the sculptures can survive in most types of sea. However my main problem is wave action and current. Which is why I like to use secluded bays or place the work in-between sections of reef?

- It seems your art is far away from obvious, each of your sculptures left us with a strange feeling, like a hidden message... what behind your scultures and your inspiration?

Vicissitudes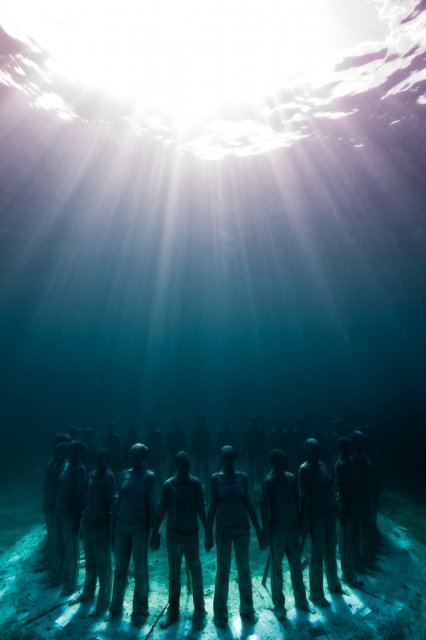 Vicissitudes is composed of mouldings taken from boys and girls aged 10-14 from various ethnic backgrounds. The figures are positioned on an area of sand five metres below the surface, holding hands to form a large circle. The circular structure of the work is designed to withstand strong currents and tidal motion, but symbolically stands for the metaphor of the cycle of life.
As with any object placed in a natural outdoor environment the underwater landscape will emphasise the various light changes and prevailing weather conditions. The cement finish and chemical composition will be scientifically formulated to promote the colonization of corals and marine life, thereby creating an organic, evolving work of art and re-juvenating the marine environment. As the sculptures are transformed by their underwater habitat, they will be marked by the surrounding environment, echoing how we as children are affected and transformed by our surroundings. The sculptures will constitute and represent process, chance, and organic transformation.
The aim of this project is to portray how time, circumstance and surroundings are inscribed in the physical body. Using young children for the artwork is intended to highlight the capacity of humans to adapt to their environment but also to bring to attention the importance of attending to the future of that environment. Having globally lost around 40% of our coral reef systems already and scientists predicting a significant demise by the end of the century, the artwork will embody these issues. The constant flux of the marine environment on the sculptures mirrors the vicissitudes of our own lives.
Grace Reef. Depth 4.2m 1.80x .46m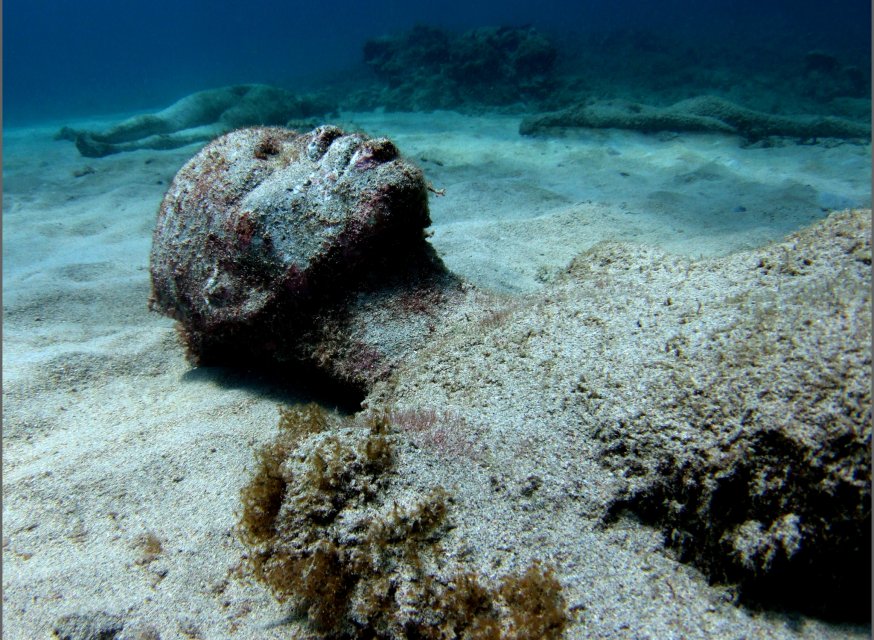 This installation consists of 16 individual figures, cast from a Grenadian woman called Grace. Front and back profiles of Grace are placed in an area of sand and debris to encourage the formation of coral and to attract marine life. Thus, over time, the sculptures will mirror the on-going evolution of the island and its people. Their placement is in an area where the reef system has been decimated by storm damage and it is designed to help rejuvenate the site. Due to the nature of the prevailing currents, the sandy substrate on which they are placed is in a continuous state of flux. It transpires that each piece is sometimes hidden or revealed by its protean surroundings. Just as the sculptor manipulates his materials, the sea carves and shapes the shifting underwater necropolis. The viewer is left confused to the paradox of a lost civilization or modern art and raises the notion of a modern archaeologist.
Sienna Depth 3.8m 1.2x .52m
This steel sculpture is based on a character from the short story "A Different Ocean "by Grenadian Author Jacob Ross. Sienna is a young athletic girl who has a special gift for free diving. The story is a tale of friendship and betrayal as Sienna's talents are exploited in the search for lost treasures.
The metal framework is designed to allow currents to pass through the body whilst providing a stable structure for filter feeding organisms to colonize. As this natural process accelerates, Sienna will gain substance and complexity. The authenticity of her being is underlined by the purity of nature adhering to her figure. Just as the reader of a book sees the story through his eyes and responds to the characters in unique ways, so this work is positioned so it can be viewed by the observer from different physical and emotional perspectives.
La Diablesse Depth 7.5m 2.2x .50m
( La jah-bless ) from the French, she-devil .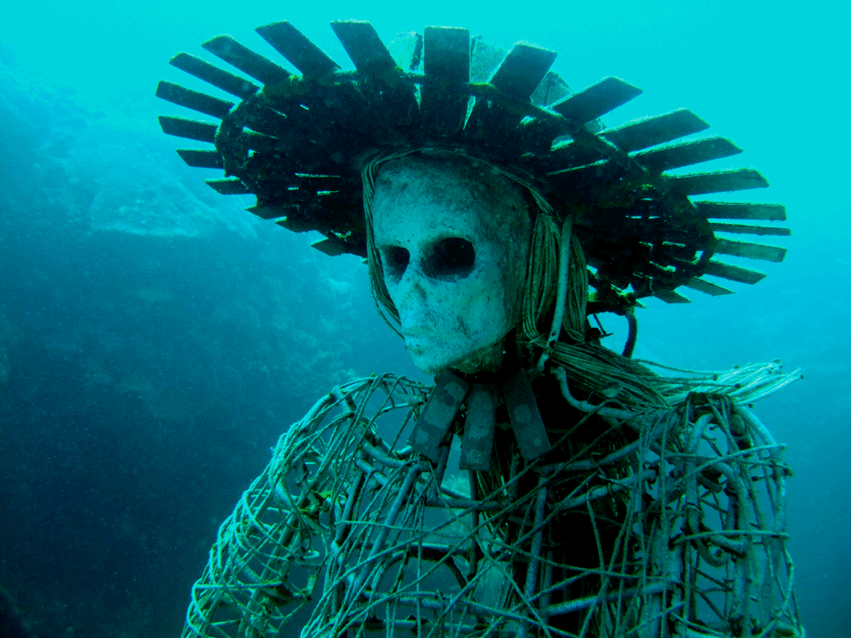 La Diablesse was produced in association with the Grenadian Board of Tourism. The aim was to celebrate Caribbean story-telling and folklore.
The Devil Woman roams at night. Her face resembles that of a corpse, hidden under a beautiful wide-brimmed hat. She is dressed exquisitely in a white blouse and a long petticoated skirt which hides her feet. The left foot is cloven and warns her victims of her ominous approach. Despised by women, she enchants men and lures them to their doom by walking them off a cliff or stamping on their heads with her cloven foot. It is believed that when a woman dies during childbirth she returns as La Diablesse.
The observer is abruptly confronted by the sculpture having been drawn to it though a labyrinth-like formation of coral. Although the initial experience is at first fear and distrust. Closer inspection reveals some of the beauty in degradation and explores how decay can transcend into life.

The Lost Correspondent Depth 7m 1.4x .43m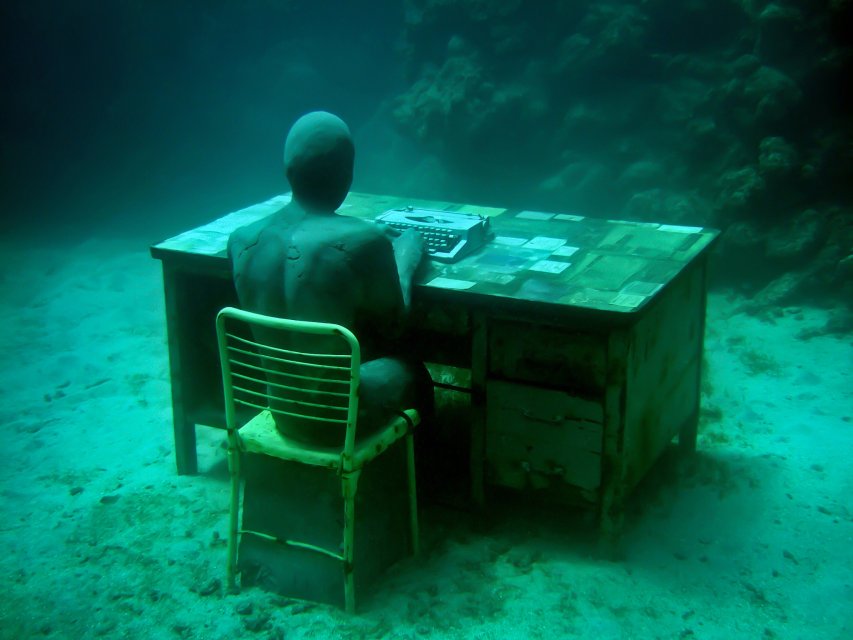 This lost correspondent documents the rapid change in communications over the last few decades. It depicts the declining role of the traditional writer. As the sculpture decays and takes on the patina of obsolescence, the writer as communicator becomes a fossil in a lost world.
Its incongruous and routine demeanour aims to highlight the contrasting change of environment, evoking mixed responses, both disturbing yet peaceful.
The desk is laminated with original newspaper articles dating back to the 1970's, some of which detail Grenada's relationship with Cuba preceding the revolution. The male figure is a life cast of local Dive master Ricardo.

The Un-still life Depth 7.2m 1.4m x .87m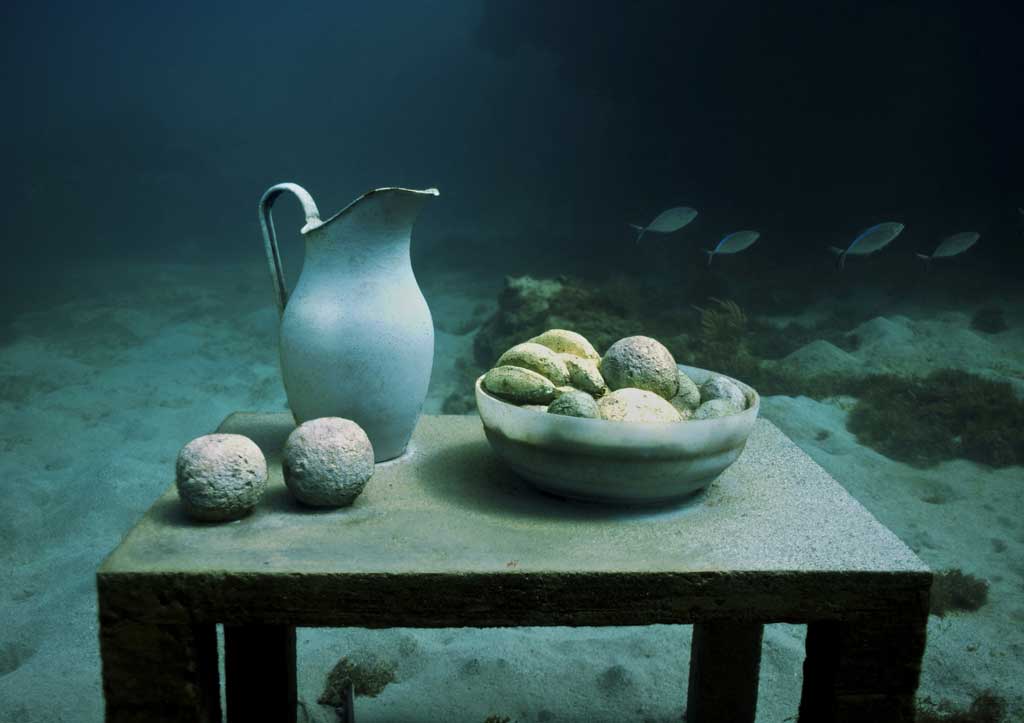 The un-still life is a table composed of an arrangement of cement objects. It mirrors the form of a classical still life painting or sketch. However the piece forever remains a work in progress, as the perpetual layers of colonization simulate the brushstrokes of time and eventuality. In a world where we persistently seek a final resolution, its aim is to form a reminder of our ephemeral and evolutionary existence. The uniqueness of the setting challenges traditional views of ourselves and our environment, transcending the boundaries separating land and water, and decompartmentalising social preconceptions.
- What has been the feedback of divers once they explore the park and interact with your sculptures....

To date I haven't had a single bad response and divers find it very mystifying and unusual. They say it feels like an archeological experience relating to lost civilizations. The next thing that follows is the question why I do it for no financial return?

- Like good wines does the intensity of your sculptures increase with time?

Hopefully. In a very short space of time I have seen incredible marine growth and colonization from life. Grace reef has a octopus living under one of her shoulders, along with peacock flounders lying in the sand next to her. La Diablesse has a green moray living inside the frame work and a permanent squirrel fish under her hat. It moves around the hat according to which angle you approach. When I first submerge the pieces they get covered in algae which in turn is grazed by sea urchins and parrot fish. The stainless steel dress on la Diablesse is covered by teeth marks from these fish. The lost correspondent has a community of banded coral shrimp living in one of the drawers and damsel fish inside the type writer. Much of the design of the pieces has been to provide shelter for marine life. At the moment I have been documenting the process of change in the pieces
- What is the future for Jason Taylor, what are your future projects?

I am looking to start using some different materials and would like to produce a glass or Perspex statue which reflects and refracts the varying light patterns underwater. Also trying various textures and formations for attracting specific creatures. I have an installation design which incorporates using a ship wreck and a series of new works following in the same vain as the Un-still life piece. I am currently in the process of surveying new sites and seeking funding.
- Which of your scultures is your favorite, and why? Which of your pieces has the most sentimental value to you?

My favourite is the Lost Correspondent which was actually one of the simplest to construct. It reminds me of my grandfather who was a very keen letter writer. I was very close to him and really miss receiving his hand written musings of life.

- Personaly I love Grace Reef, Humans, people lying down, sleeping in perfect peace and silence. Quite powerfull, but with an auora of sadness... am I right? Can you explain to me how the creation of Grace Reef took place?

Grace reef was the first project I started. It actually caused me some great logistical nightmares, as I did the casting in London and then transported the mould back to Grenada as baggage allowance. When I cast it in cement, it weighed over a quarter of a ton and become impossible to move. I had a mind a piece that would essentially form the basis for a reef stretched over the sea bed. Hoping that layers of would make it feel like a relic from another era. I find that the sea quite often casts a slightly sad and serene shadow over the pieces. Maybe because it feels historical. I get a similar feeling looking though old black and white photographs.
Jason, thanks a lot and my very best regards. We love your work and congratulations on such an amazing talent.
We thank Jason for his permission in the use of this article on the website, thanks and here is the link to his online presence http://www.underwatersculpture.com .