St Lucia a sizeable chunk in the azure ocean (14 miles wide and 27 miles long) that is the Caribbean has a hilly interior that is a paradise for many. The peaks that make St Lucia famous separate fishing villages often so take your time exploring perhaps get married here or just enjoy a secluded beach that could be every bit as memorable. Sitting between St Vincent and Martinique it is a Windward Isle. Its famous for it's twin piton peaks but visit the Diamond Waterfalls that cascade through six stages of fall. Visit the the 18th century ruins of a structure commissioned by Louis XIV as there are mineral baths here.
Visit our great St Lucia Blog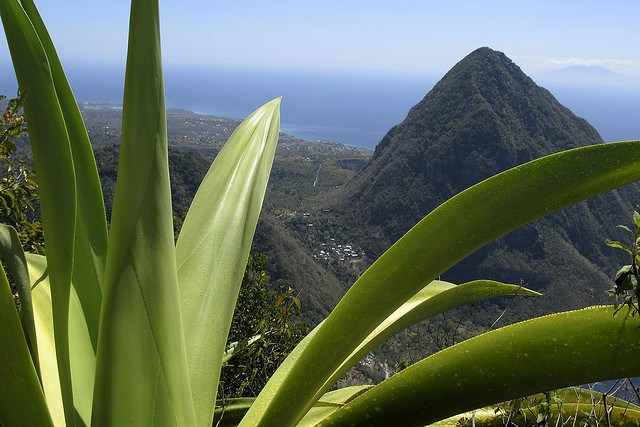 Getting around
Taxi is the recommended way to get around as the roads are so bad. Cars are unmetered and you should negotiate based on set prices but be sure to ask if the rate is in US Dollars or Eastern Caribbean Dollars !
---
Map of St Lucia

You wont find big brash hotels here but you can stay in plantations or more modest in height only luxury accommodations. There is also a campsite on St Lucia. St Lucia claims to have the only Drive In Volcano or at least the remnants that are muddy pools bubbling up.
Images thanks to
Frommers
and
Grijze
,
twoguns
---
Some of the best beaches in St Lucia
Reduit Beach
Perhaps the pretiest on St Lucia - 1km long. Home of the royal resort by rex which has a high end spa and all the facilities you would expect for its 4 stars and also hoem to the St Lucian also by Rex Resorts.
So you can find excellent swimming and bathing snorkelling or take out a hobbie cat or annoy some other people on a jet ski.
Rodney Bay Marina
Fancy restaurants and upscale tourism.
Anse Chastanet Beach
The black sand Anse Chastanet Beach, on the southwest coast, is very good for snorkeling a marine reserve area called Fairy Land the snorkeling is smartly cordoned off from boat traffic. Snorkeling in shallow water is available right off the beach, and the crystal clear waters are great for that underwater toy camera !
Anse Chastanet is also one of the best dive spots on the island. It can be entered directly from a black sand beach, eventually plunging down to 140 feet. In addition to the excellent coral formations, there are wrecks. [See Anse Chastanet Dive Site]
---
Other Things to do in St Lucia
Pigeon Island National Park :

Hiking St Lucia : Hike around Pigeon Island, or through Cactus Valley. Or try Gros Piton (one of the twin peaks the other being Petit Piton) a steep but safe climb of 2,619 feet no real climbing needed however its smaller peak Petit Piton requires climbing gear.
An excerpt from larsonoutdoors :"The Enbas Saut Falls is a diverse 2.5-mile trail through 
rainforest, cloud forest and elfin woodlands. Enbas Saut means "below the falls," 
and hikers can cool off under two cascading waterfalls and pools along the trail.
Two strenuous treks are the Des Cartiers Rainforest and the Edmund Forest Reserve
 on the western end of the island. The later hike is filled with rare flora and fauna
 including bromeliads, orchids, mushrooms, lianas and others, and the western part
of the trail offers magnificent views of Mount Gimie, St. Lucia's tallest peak."
ScubaDiving : Anse Chastenet reef in the South West is perhaps St Lucias most dramatic site the wall starts a 20 ft and drops to 140 ft. Every August after the full moon brittle stars come out to spawn, try and get on a night dive for that. Also dive the Pinnacles seamounts and the artificial reef Lesleen M. St Lucia has its wrecks too the Waiwinette is a challenge due to the currents. At the base of Petit Piton Mountain there is a dive you can do its a strong drift dive.

All Terain Vehicle Tours : AKA Quadbikes With a guide after an orientation session you can visit banana plantations ride the panoramas and coastline of St Lucia. Eat at the banan farm and take a dip at the end.

Kayaking : We have a selection of great kayaking tours here available also to our cruise ship visitors.

Horseriding,kitesurfing,
Mountainbiking : 12 miles of trails designed on Anse Mamin Plantation in Soufriere.
If you have a dive shop or resort please add it to this website using the links in the main menu.

Nightlife : You can find some street parties going on from time to time, otherwise don't be shy to visit the rum shops or shacks and converse with the locals. Castries has the most clubs otherwise your resort will probably satisfy your thirst for music and drink.
---
Things to See in St Lucia
Castries : Cathedral of the imaculate conception, Derek Walcott's Square, Reduit Beach
Special Events When to Go and Other Travel Essentials
The most popular time to visit is January to April, this is the driest time.
JOIN THE ST LUCIA GROUP For updates on St Lucia News and to discuss travel resorts and whatever you like so long as its about St Lucia its good here, even self promotion.
Other St Lucia Guides