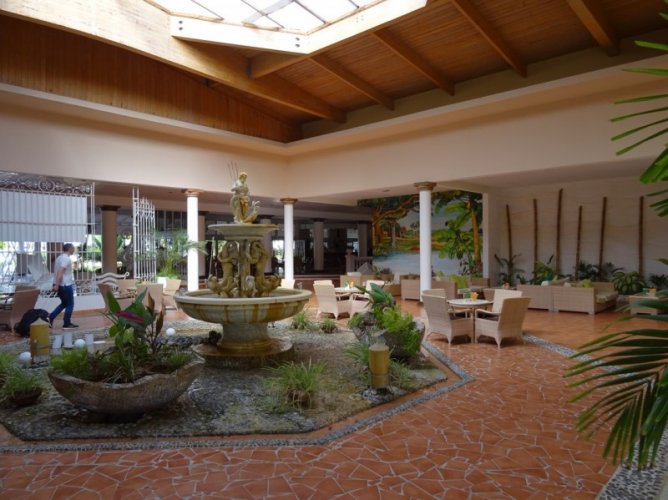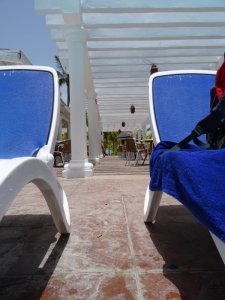 The Melia Cayo Guillermo offers the vacationer the option of a good value capable resort stay. This resort is matching Caribbean standards for a 3 star on many levels and in others surpassing them. There are few annoyances so big that you should have a worry. If you are coming with your family and require toddler care or child groups then perhaps accept that you will have to entertain them. 
Good sized standard rooms king beds with integrated air con are good basics that set you up for a comfortable stay. If you are visiting from the UK the flight times of 10-11 hours mean that you might stay longer than 7 days this becomes important. There are enough dining options to keep you interested. The bar staff work hard but you might find the range and quality of drinks somewhat of a let down if you are fussy, the bar is open 24 hours apparently (untested). Food at the beach bar is fine and there is enough shade to enjoy the pool area in general.
The beach is very good and the pier makes this resort a favourite for fishermen- many who return. 

Tours and Things to Do
Your rep will have a list of cool things to do including a nice fun night out to an underground nightclub where there are actually bats within reach (take shoes you dont care about). Catamaran cruise to the reef for some snorkeling or a speedboat tour through the mangroves..You won't get bored. If staying longer than a week you might venture to places like Trinidad.
User reviews
Good Value and Enjoyable Holiday at the Melia Cayo Guillermo
Its a very nice beach and the nature is mostly unspoilt* The cays here are remote (staff get bussed in from the closest towns 1 hour away!) due to the remoteness and the National Park and so the nature around is very undisturbed by a lack of mass human development (though tourism must impact). If you take the $5 bus ride you will see the nature and feel the remoteness a feature of the holiday for me. The activities are numerous and I would like to scuba dive next time and more fishing and a catamaran cruise.

General
The resort is pleasant to walk around and the internet worked though only at the reception area ($1.5) by purchasing a card.

Entertainment
Almost forgot to mention this - it was very very good and different from other caribbean islands I have been to. It was much more artful like ballet and very creative. For example they came by the reception and just performed right there. It made you feel special guests oddly.

The Staff
On balance EXCELLENT.
Not always smiling as much as you would like but understand (probably due to shift lengths and low wages) and you need to get that the british thank you for everything is OTT for them. I dont normally tip as I dont agree with it. HERE I DO TIP - it felt right and appropriate earning $15 per month was a rumour.

The Pool
The (only) pool lining is a weird kind of rubber lining like you would get on a high end garden pool and the bottom is creased. But it means the sides are much better than tiles! And the floor doesn't have slippery surface so I found the pool ok. It was cloudy water if I am being critical and maybe this was chlorine.

Dining
Eating at the buffet for breakfast lunch and dinner was perfectly acceptable and the wines drinkable. A decent range of foods. You should try the other restaurants which I really liked - the international one and the italian both surprised us in the quality of service and feeling. The international one has nice views and feels apart from the resort (it is slightly).

When you keep an open mind and consider what you get for your money then it feels like a great value resort that is comfortable and capable. At times CUBA happens and you might have a power outage or you catch your foot on a raised floorboard on the pier or you don't get your mini bar refilled (not many hotels do that at all! It's FREE here..)

I WOULD RECOMMEND THIS RESORT TO MOST PEOPLE

*fogging to kill off the mosquitos seems to be often and it seems to be killing more than just mosquitos.
Was this review helpful to you?