The Caribbean has long been one of the most popular destinations for seafaring vessels of all kinds. From pirates to princesses, the waters of the mysterious Caribbean islands attract all sorts to explore some of the world's finest scenery. That's scenery both below and below the surface.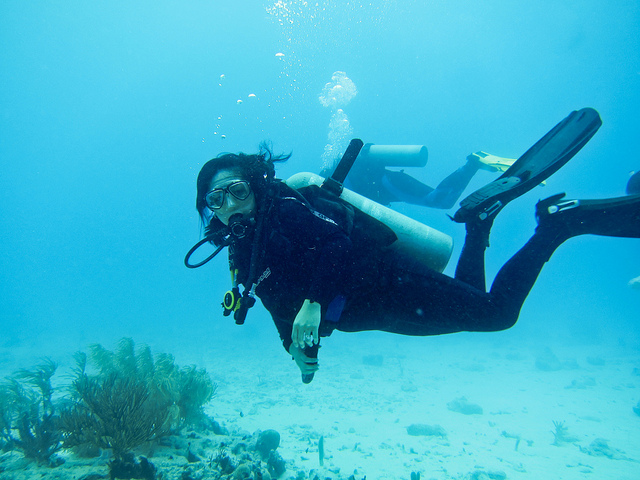 One of the most popular activities in the Caribbean is scuba diving, but with limited time it's hard to know which dive spots are best. For the ultimate Caribbean experience, you can book a Royal Caribbean cruise and hit the highlights by day, then retreat to the comfort of a cozy cabin by night. Here are some of the very best dive spots in the Caribbean and some great places to stop on a blissful Caribbean holiday:
The reefs surrounding the island are pristine and extremely accessible. The diving industry on Bonaire prides itself for its environmentally conscious practices and intends to maintain its ecological integrity even as it becomes increasingly popular. There are incredible reefs off the beaches of almost every hotel. These have been the result of volcanic eruptions and have formed an incredible underwater mountain.
Virgin Gorda (B.V.I)
This underwater mecca has long been a hot spot for seasoned divers.
It's not unheard of for determined divers to plan an entire Caribbean holiday around visiting the famed wreck of the RMS Rhone. This old Royal Mail steamer lies off the coast of Salt Island and has been there since 1867.
This island dive site is surrounded on three sides by the continental shelf, the underwater geology making the island a diverse diving destination. There are trenches in and amongst the shelves that are suitable for all levels of divers and in southern Puerto Rico the continental shelf dramatically drops off, creating an underwater wall stretching 32 km below the surface and teeming with all types of marine flora and fauna.
Selecting a holiday destination is challenging sometimes. Sure the prospect of 'getting away from it all' is appealing, but sometimes the hassle of organizing the getting away can become cumbersome and stressful. For travelers who love to explore and keep moving on holiday but don't love the idea of packing and unpacking in a new hotel every few nights, cruise holidays are the solution.
Cruise ships are more than just floating hotels. They're floating movie theaters, wildlife watching tours, water parks, spas and five star restaurants. Rooms range from efficient and economical to sprawling and sumptuous. If you're going to travel to paradise, you may as well enjoy a touch of luxury on the way there!