Belize Scuba Diving
Belize
Welcome to Belize and her welcoming Cays and adventure travel.

Belize is well Known for its scuba diving due to it hosting the worlds second largest barrier reef but also lesser known is that it has three out of the four coral atolls in the western hemisphere! One of these is most famously known as the Blue Hole. It also has Mayan ruins and jungles and rivers that can be toured from Belize city. The offshore Cays , Ambergris and Caulker allow access to over 100 dive sites in addition to the Atols. You might not find any central american country to really host the best caribbean resorts but you can sure find luxury resorts in Belize.
Diving is usually done from resorts on the Cays or liveaboards. There are walls wrecks, caves, pinnacles coral gardens and faroes. Visibility is generally very good exceeding 100 ft.
The Blue Hole: At over 1000ft across and more than 400 feet deep has a cavern with stalagmites and stlactites - this is an advanced dive.
FYI the fourth Atoll in the western hemisphere is off Mexico's Yucatan peninsular south east called Chinchorro Banks.
When to Go April to June has the most predictable weather, waters are warm year round but can get choppy with swells in winter. The Barrier Reefis calm year round mostly.
---
Related Belize travel sites you might like.
http://www.naturallybelize.co.uk/
---
Overheard:
"I didn't think the reef was comparable to that of Roatan Diving" - Bob - USA Cruise Shipper.
Details

Written by

Super User

Category: Belize
Hits: 4478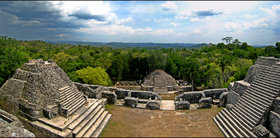 Details

Written by

Belize Guide

Category: Belize
Hits: 4543
Details

Written by

diver

Category: Belize
Hits: 4125
So you are thinking of Scuba Diving Belize? Great and good choice! But just how and where in Belize are you planning to Dive. It's a bit tricky but with this guide we can help you on your way to enjoying your adventure above and below the waves. Belize can rate among some of the best dive sites in the world for example the blue hole. To get an idea of the problem of choice lets take a look at the map of Belize.
The barrier reef is best explained by imagining almost a straight line running down the right side just out to sea following the coast until it reaches the end at Ranguana and Sapodilla Cayes.
Belize is a diverse diving destination with multiple locations, there is too much choice.
Let us first talk about how NOT to Scuba Dive Belize, and that is doing it by visiting on a cruise ship. While many scubadivers visit Belize on cruise ships and understandably want to dive Belize, the problem with that is the cruise ships dock in Belize City.
Belize City has never been a top diving destination as it's mainly used as a base where all the Belize liveaboards dock and resupply for there next trip.
The waters around Belize City are churned up due to the river mouths that empty into the ocean close bye, if you dive from Belize City you have to travel about 45 minutes to an hour to get to the Belize Barrier Reef where the visibility is much better.
The dive sites that you will be able to dive from a cruise ship will not be the best dives in Belize and as long as this is understood then go ahead and dive, they are still very nice dives.
From a cruise ship, at best you will dive along the Barrier Reef close to Goff's Caye the sites will be nice sites but certainly not the best diving Belize has to offer so by all means take a dive but plan a trip back to Belize for a week of the very best diving Belize has to offer.
Let's look at the different types of diving Belize has to offer.
Details

Written by

calvin

Category: Belize
Hits: 4469
Ambergris Caye – Dive Sites
Ambergris Caye is one of the more popular spots for diving out of in Belize. With a great variety of things to do after diving it is little wonder that it is popular with vacationers who don't even dive. It has phenomenal snorkling too.
Cover - https://www.instagram.com/p/BW6pkb9AfwZ/?taken-by=maliworkman
Northern Ambergris Caye Dive Sites
Palmeros Point
This is one of the most northern dive sites located at about 12 miles from town. The beautiful untouched reef starts at about 50 feet and then slopes of into steep cannons and drop down to a wall with over hangs that go down to 110 feet deep. Here we find a lot of Horse Eye Jacks and Nassau Groupers since the deep drop off and its overhangs give them very good habitual surroundings. This area provides a lot of beautiful reef creatures and fish that will take the photographer into scuba heaven. This is a beautiful drift dive.
Profile : The dive will be between 50 and 90ft deep and last for about 50-25 minutes, with a 3-minute safety stop.
These tunnels got their name because some people have chosen to get married under water right here. The dive starts out in a beautiful canyon that ends in a big cavern which has an opening in the roof that lets through a lot of light. Here we have some Spotted Drums that have made this their home, a variety of Sea Fans like the Wide-Mesh and the Deepwater Sea fan which gives this place a very romantic setting. This is a beautiful drift dive.
Profile : The dive will reach 80ft deep and last for about 30 minutes, with a 3-minute safety stop.
Details

Written by

Lucy Wallingford

Category: Belize
Hits: 3812
Can't decide between rafting, snorkeling, caving, or kayaking on your next adventure? Who says you need to?
If you are in seeking an active vacation based out of your own private island, then start packing your snorkel gear. There's a little slice of paradise with your name written in the sand; it's called Adventure Island at Glover's Reef, 35 miles off the coast of Belize. And it doesn't hurt that the water is 80 degrees.