Belize Travel Guide and Scuba Diving
Belize
Welcome to Belize and her welcoming Cays and adventure travel.

Belize is well Known for its scuba diving due to it hosting the worlds second largest barrier reef but also lesser known is that it has three out of the four coral atolls in the western hemisphere! One of these is most famously known as the Blue Hole. It also has Mayan ruins and jungles and rivers that can be toured from Belize city. The offshore Cays , Ambergris and Caulker allow access to over 100 dive sites in addition to the Atols. You might not find any central american country to really host the best caribbean resorts but you can sure find luxury resorts in Belize.
Diving is usually done from resorts on the Cays or liveaboards. There are walls wrecks, caves, pinnacles coral gardens and faroes. Visibility is generally very good exceeding 100 ft.
The Blue Hole: At over 1000ft across and more than 400 feet deep has a cavern with stalagmites and stlactites - this is an advanced dive.
FYI the fourth Atoll in the western hemisphere is off Mexico's Yucatan peninsular south east called Chinchorro Banks.
When to Go April to June has the most predictable weather, waters are warm year round but can get choppy with swells in winter. The Barrier Reefis calm year round mostly.
---
Related Belize travel sites you might like.
http://www.naturallybelize.co.uk/
---
Overheard:
"I didn't think the reef was comparable to that of Roatan Diving" - Bob - USA Cruise Shipper.
Details

Written by

Super User

Category: Belize
Hits: 3037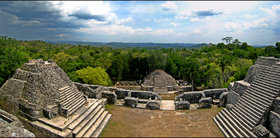 Details

Written by

Belize Guide

Category: Belize
Hits: 3198