The tiny community of
Tulum
is situated in the northeastern area of the Yucatan Peninsula in Mexico. The sparsely populated Mexican state of Quintana Roo has a solid Mayan heritage with many exceptional archaeological sites as well as some of Mexico's most famous beach resorts. Tulum is situated only a few miles from the Caribbean Sea to the east in a very secluded area.The waters of Tulum are incredibly diverse with its coral reef,
Cenotes
, underground rivers, lagoons and bays. This makes it an amazing place to practice many water sports. In Tulum you can enjoy beach fun and innumerable water sports.
Kiteboarding
Kiteboarding is a surface water sport that uses wind power to pull a rider through the water on a small surfboard or a kiteboard. It is the new generation of sailing sport, born from a surprising combination of windsurfing, paragliding and wakeboarding; it addicts new participants each day. Tulum and its warm gorgeous water and selection of great spots offer perfect conditions for beginners to experts during the windy season which is on December to June.
Cave Diving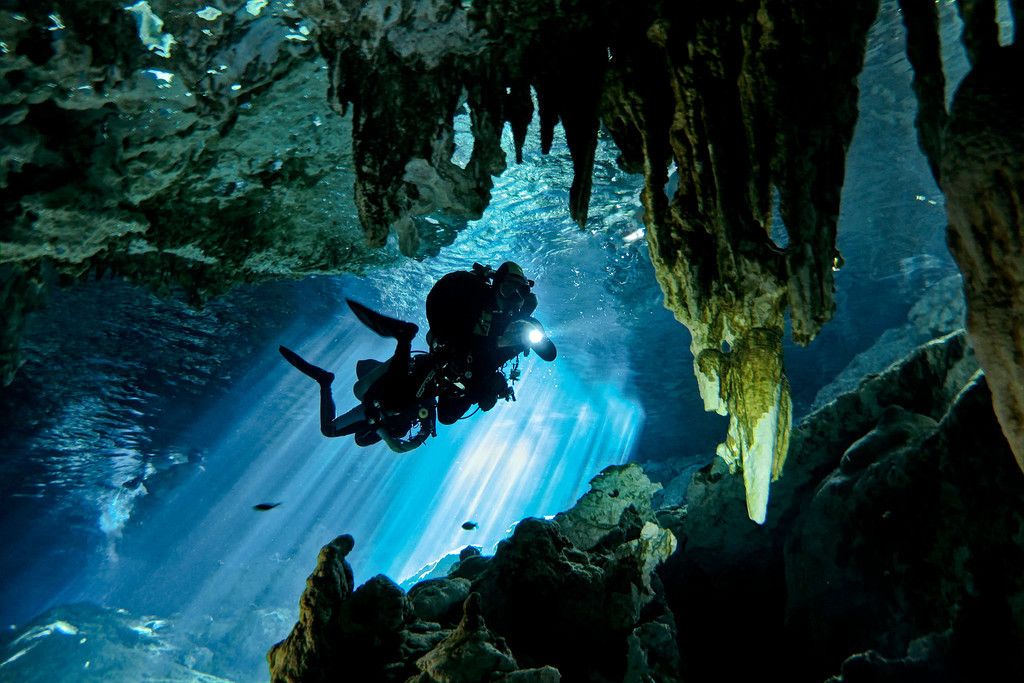 Dos Ojos by Luis Leal
Tulum region conceal unique wonders and it offers another kind of exceptional diving experience; Cenote diving. Cenotes are openings in the underground freshwater or underground river system of the Yucatan. Tulum is also famous for its Cenotes; Mother Nature's own crystalline fresh water pools which are immersed in history and Maya ritual. They are true active caves systems with impressive rock formations. These will offer a diving experience in a tremendous world which will leave you with unforgettable memories. Here is some more info on Cave Diving in Tulum Dos Ojos (Two Eyes)- https://expertvagabond.com/dos-ojos-cenote-dive/
Snorkelling
Snorkellingis a wonderful activity that can be enjoyed by almost anyone who has access to the ocean, a lake, river, pond or quarry. It is an exciting activity that a large number of individuals and entire families get a tremendous amount of enjoyment from, and it is a hobby that is becoming more popular every single year. Adults and kids will be able to benefit fully from the close proximity of the coral reef of Tulum and its rich aquatic fauna .It will awaken your spirit of adventure and open up your senses to the wonderful coral gardens of Tulum.
Tulum beach used to be a destination for backpackers, but Tulum hotels have gone up scale, and the beach now magnetize a well-heeled crowd that seeks to get away from the bustle of the big hotels and resorts.