When to Go ?
The slightly cooler months of September through to May 70-80 f. With the Bahamas you are more likely to visiting a particular resort however you can find more family run beachside accommodations. If you have a modest accommodation please let us know. There are some super upscale resorts with casinos for example as well. The outer islands offer more idylic and laid back atmosphere.
Where to go ?

Nassau on New Providence island
Nassau has long been a vacation paradise. Ample hotel rooms (US$100 and up) are available. Paradise Island is connected via a bridge features a casino, a diverse set of shopping, and a fabulous free aquarium (in the Atlantis complex). Downtown with its straw market is a ten minute walk or short taxi ride from the Harbour club. Don't forget amazing beaches and golf.
Generally speaking this is not regarded as the best of the Bahamas for scubadiving due to the amount of tourists etc. It's a very busy place. Recommended is to get to the outer islands or on a liveaboard for serious diving enthusiasts. See our mini guide to liveaboards here.
The Bahamas is set over a big area of the Caribbean

The Exuma Cays
30 miles souetheast of Nassau continuing another 90 miles is the Exuma Cays.
Any access is strictly by boat and the terrain varies from smaller rocks to small sand covered cays pristine picture perfect to more hilly cays with vegetation and trees. Visibility for the diver is from 80 to 150. Generally there is a drop off starting at 50 ft to thousands happens parallel to the line created by the cays on the eastern side, the Exuma Sound. On the other side is the great bahama bank and you can have a mile long drift dive due to the tidal flows around the islands.

With a massive sea park The Exuma Cays Land and Sea Park which is part of the Bahamas National Trust. It is 176 sq miles of protected reef and creatures which means some of the best Caribbean Diving. An abundancy of fishes including the newly arrived lionfish. All who seem to be inquisitive in nature. This is an example of the Bahamas tourism infrastructure and protection in place, being created in 1955 damage has not been able to be done and this is not a marine park that is catching up to past times. A few hours from a very accessible Nassau this is one of the best spots in the world to dive.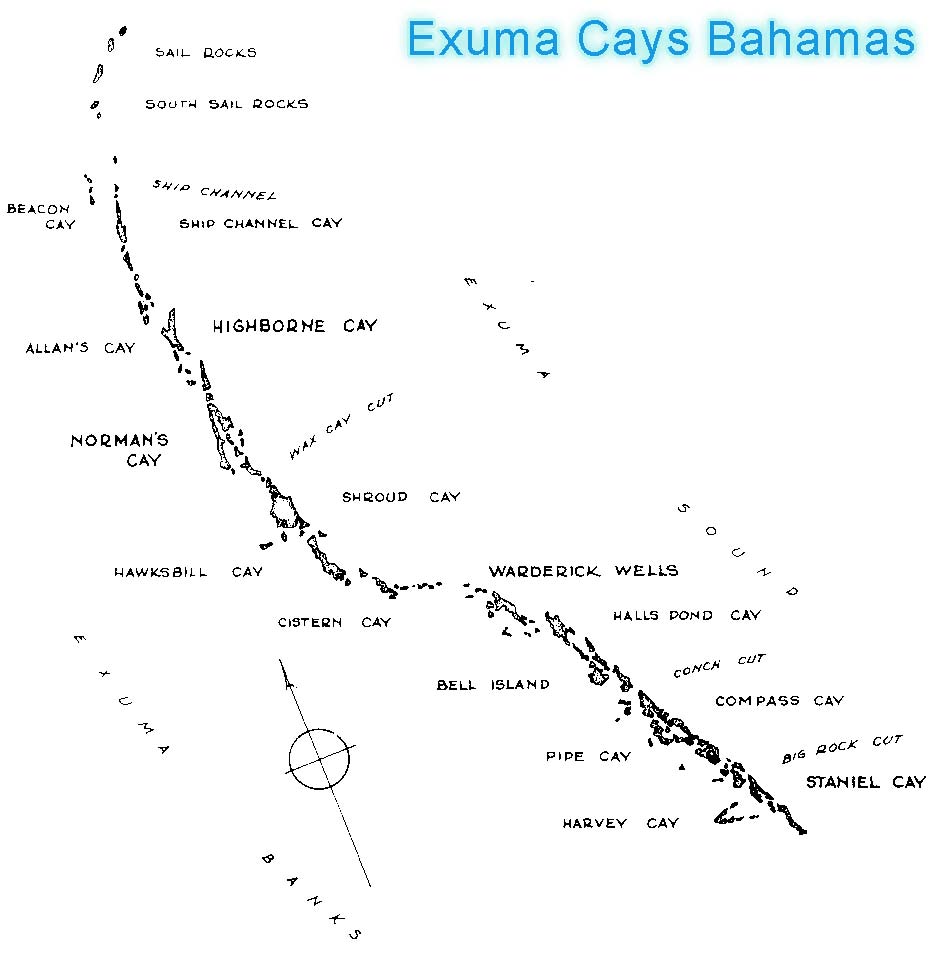 Abaco and Eleuthera
Located Northeast of the Bahamas archipelago are two major groupings of Cays and Islands. Marsh Harbour on Great Abaco is the third biggest town in the Bahamas and caters for every need the voyager needs from superb restaurants to mooring and bars to dance and meet people in. Eleuthera / Harbour Island is known for pink sand beaches and pineapple plantations. It has a good standard of diving spots nearby. The Current Cut, runs between Eleuthera and the small island of Current, makes for fun dives; changing tides send a rollercoaster current through a 100-yard wide channel. It is like Abaco, Eleuthera considered as an Outisland.
Mayaguana
This is home to the pink flamingoes, empty unnamed dive spots, tranquillity and bone fishing. This island is way out away from the main Bahamas gateways and most people access this from the Turks and Caicos as in this trip review (link lost if you know where it is please contact us).
Cruising in the Bahamas
The destinations you might stop in while on a cruise include but may not be limited to the following Bahamas cruise ship destinations Nassau, Cococay (Royal Caribbean only)
. Cruising represents a way to get around a have a good perspective of the Bahamas. Would you like to just drop anchor though and stay a while longer ?
The Bahamas Photos
Our Caribbean Online Community Photos of Bahamas
For Photos of the Bahamas also check out Pinterest and Flickr