The best dive sites in Dominica
Dominica's diving differs from those Caribbean Islands with sloping shallow patch reefs. Here you have hot volcanic action dictating the topography evident above and below the surface.
Nutrients getting washed down from the mountains above feed the massive barrel sponges and they help feed the reef and so on. There are some deep drop offs here that technical divers might appreciate sport divers will just have to look down ! Danglebens Pinnacles is a site with a series of 5 pinnacles rising from 100 feet up to 25 ft covered in wonderful coral.
When to go? It's best visited from Christmas time through to June to avoid the rain for whatever kind of holiday as you may know rain doesnt help with diving visibility.
Noteable diving sites in Dominica
The Southen Dive Sites of Dominica - learn about the Scott's head marine reserve here
The 'best' site is Champagne Reef, volcanic action causes an underwater spring spewing out hot water and bubbles its a dive for all abilities and I think it is the novelty factor that makes this dive 'best' though I always like to find seahorses so that would bump it up for me. The fact that it is in just 15 feet of water you know its going to be heavily dived - still you have to do it ?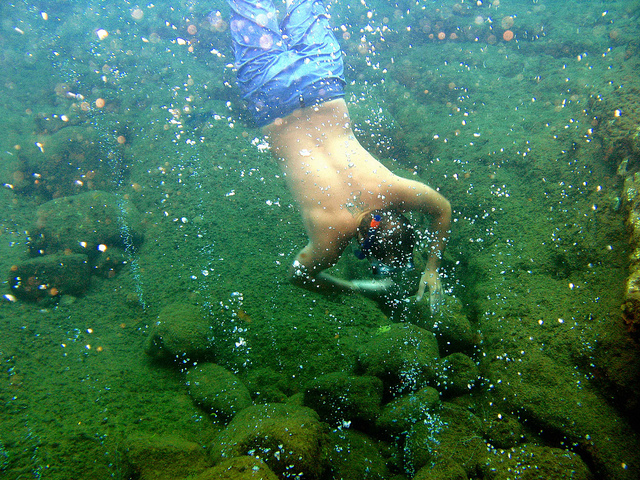 Craters Edge comes highly recomended - if you like big jacks and baracudas.
Scotts Head drop off - classic wall dive
Scotts Head Pinnacle - features a pinnacle and swim through and wall dive you can get to over 120ft there.
The Village - 3 pinnacles and the mix of Caribbean and Atlantic currents gives rise to pelagics like Baras and Jacks - you just never know. This is a more advanced dive described best by A Virtual Dominica
"The Suburbs and The Village are richly covered rocky drop-offs that are visited by schools of black durgons, huge barracuda, frequent turtles, and often some big stingrays. This is a much wilder area and one never knows what might pass by. But on the quiet days when nothing exciting happens, one is given time to enjoy the magnificent coral life. Huge barrel sponges and walls of incredibly dense deep-water seafans which frequently conceal shy seahorses, hundreds of colourful crinoids and sponges, like splotches of paint from a deranged artist's pallette."
Thanks to Cabarits Dive Centre for these northern dive sites
Prince Rupert Bay

Name: Volcano Site
Time to Site: 5 minutes
Location: Southern End of Douglas Bay
Depth: 60ft-115ft
Level: Advanced
Description: This unique area has volcanic gases venting from the sea floor, which bubble up gently through the sand and coral. Hot sand, multi coloured from the sulphur deposits surrounds the huge sponges and brain corals flourishing at these sites. A fascinating dive

Name: Shark's Mouth
Time to Site: 5 minutes
Depth: 15ft-120ft
Level: Easy to Advanced
Description: So named for the huge barrel sponges that look like shark's mouths! This site has a delightful mixture of soft and hard corals and many brightly coloured sponges which covers the sharply descending slope. There is usually a gentle current present.

Name: Sunshine Reef
Time to Site: 7 minutes
Depth: 20-110ft
Level: Easy to Advanced
Description: Like swimming through a sun-filled aquarium, this dive has a sand plateau at 35 feet, covered with coral heads, sponges and sea plume. The wall drops off to over 100 feet and has many colourful sponges and coral.

Name: Pole to Pole
Time to Site: 6 minutes
Depth: 15-45ft
Level: Easy
Description: Dive under the Cabrits Cruise Ship Dock…this easy dive features, on a regular basis, some of the rarest critters around. Seahorses, Batfish, Flying Gurnards, Sand Eels and much much more, all set against a background of towering wooden poles which are covered in sponges. Amazing in the day and incredible as a night dive.
Pole to Pole was voted 1 of 7 Top Pier Dives by Scuba Diving Magazine in 2010!
Toucari Bay

Name: Toucari Caves
Time to Site: 15 minutes
Depth: 30ft-100ft
Level: Easy to Advanced
Description: Toucari Caves is perhaps the most beautiful dive in Dominica, if not the Caribbean. Incredible healthy reef, a beautiful cave, coral archways to swim under, bubbles rising from the reef floor and fish everywhere…a must dive and always our instructors and dive master's favorite.
Douglas Bay

Name: Five Finger Rock
Time to Site: 10 minutes
Depth: 15ft-90ft
Level: Easy to Advanced
Description: This site is named for a huge boulder that tumbled down the mountainside 1000's of years ago and now forms a hand like formation. Like an iceberg, you can see the top of the rock breaking the surface, but that is only 9/10ths of what lies under the sea. This is a great spot for spotted eagle ray sightings.

Name: One Finger Rock
Time to Site: 10 minutes
Depth: 35-120ft
Level: Easy to Advanced
Description: Sand, sponges and corals mixed together on a wonderful flat plateau at 40 feet. The plateau then drops sharply off to 120 feet, where there are sand and big coral patches, which are teeming with thousands of fish, including some very large snapper.

Name: Douglas Bay Point
Time to Site: 12 minutes
Depth: 20ft-90ft
Level: Easy
Description: A dramatic wall in the area sprinkled with huge coral covered boulders. The beautiful soft corals are in an area in competition with the equally impressive hard corals. You can swim between the massive boulders that give this dive site such a unique topography.

Name: Rose Garden
Time to Site: 10 minutes
Depth: 25-100 ft
Level: Easy
Description: As the name suggests a beautiful dive over beautiful reef. Glide gently over the wonderful coral-scape. A great dive to start your vacation with.

Name: Cannon Site
Time to Site: 10 minutes
Depth: 20-75 ft
Level: Easy
Description: Home to our wreck, The Nadine L. Purposely sunk in 2003, this 55 foot wreck is a perfect introduction to wreck exploring. Stingrays, Electric Rays, Angelfish and Decorator Crabs are among the commonly found creature here
Northern Point -( US$5 surcharge)

Name: Point Break
Time to Site: 30 minutes
Depth: 20-70 ft
Level: Advanced
Description: Point Break is situated at the very northern tip of Dominica where the Atlantic Ocean meets the Caribbean Sea. We begin in the Caribbean sea and glide around the Capucin Point into the Atlantic. We return into the Caribbean via an open swim-through, keeping a lookout for sting rays.

Name: Featherquill Reef
Time to Site: 20 minutes
Depth 35-120ft
Level: East to Advanced
Description: See the 'Sea Pens', a creature that looks like a white feather sticking up from the sand. We have a large field of these incredibly rare creatures from a depth of 75-100 feet. An unforgettable dive.
South of Cabrits

Name: Heavenly Cove
Time to Site: 25 minutes
Depth: 20-70 ft
Level: Easy to Advanced
Description: A stunning dive to the south of our dive centre. Big barracuda, Stingrays and such healthy reef in this 'heavenly cove'. For the more adventurous there is also a cave swarming with lobster. A favorite dive.

Name: Plume Plateau
Time to Site: 15 minutes
Depth: 30-50 ft
Level: Easy
Description: A sandy area, littered with huge boulders which attract life like desert oasis' The boulders are covered in sponges and fish life. Home of the famous 'walking sponge'