I feel the need to repaint a different picture at least for what exists currently (online anyway) of Diving in Antigua. I am yet to visit and dive Barbuda - a smaller less visited island. This article will focus on the bigger more developed main island - ANTIGUA ! It may be that diving is very different in Barbuda and harder to plugin and play indeed there are no dive operators on Barbuda..
I have dived both the west coast and south coasts over the years and feel that a good online description is called for after some pretty unfair refferences to diving in Antigua. Check out this blog post on diving in Antigua that is a better reflection of the truth.
The diving might not be dramatic, though there are some fatastic sites with healthy corals and fish life. On one dive today I learnt what don meant by lobster condominium - I counted over 24 lobsters that I could spot in 2 cracks and I have never seen anything like this before. I will try and get footage of this next time. Today I dived without my camera to just enjoy..
First dive was blacks 3, second was blacks...something anyway max depth was 19.8 m according to mares nemo. Highlights of the first dive was a good sized baraccuda and lobster condos. But also saw spotted drummer fish and got to play hide and seek with peackock flounder there were other sightings and I forgot how prevalent flamingo tongues were here. On dive 2 there were a smaller sting ray and a good sized one just hanging out I got nice and close and cruised by his porch on the sand - it was another great diving moment there was a cool swim through that was an overhead environment giving some challenge and shelter for the smaller shoals that like these kinds of places. And this was just 2 dives so far. Will be out again on Saturday.
You can often spot black tip reef sharks on dives in Antigua. they dont hang around for long so if you spot on remain calm or they just swim off. On a dive site called double dip there has been a tiger shark spotted by Donald from Indigo Divers- as you can see he was rightly very excited!
Tiger Shark Video Antigua
Most diving in Antigua is out at Sandy Island and Cades Reef, there are a few spots in the south. Even in the winter season when its at it's driest the sandy nature of Antigua means that visibility is not as good as say Bonaire which is noted for its high visibility.
Dive Sites
Cades Reef viewed from the air courtesy of Jolly Dive.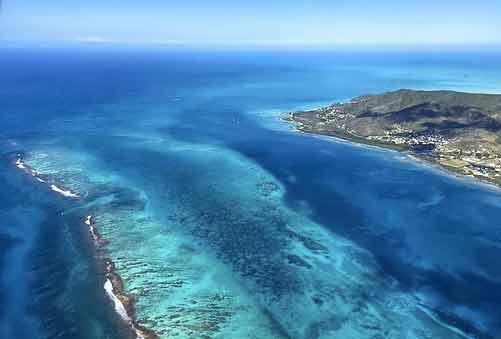 Dive Operators and Resorts offering scuba-diving in Antigua and Barbuda
Barbuda Diving Link - sadly now broken http://barbudaful.net/things-to-do-see/watersports/diving.html
Other sites with good information on Antigua Diving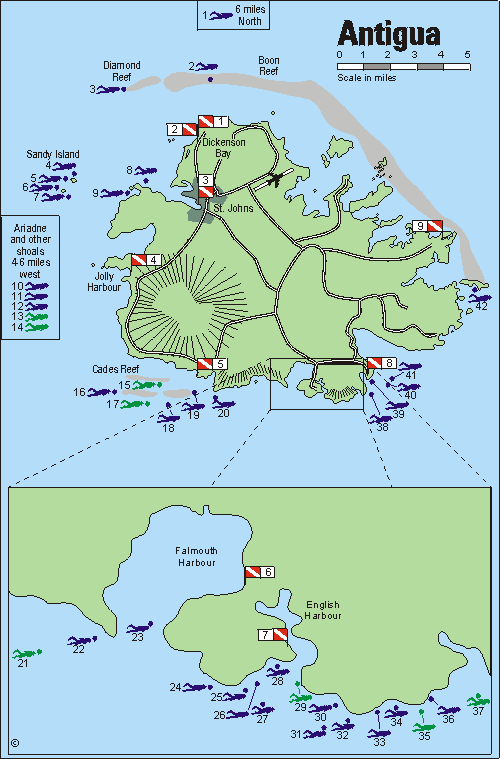 http://www.caribdiveguide.com/Antigua.htm
Ask your dive operator about the following noted dive sites. Sometimes to keep diving affordable some dive sites are not often visited - be firm if you really want to visit a particular site with any dive operator on any island but please take into account the extra effort to reach the sites. They might have a different price for some sites to cover the extra diesel. Hard core divers will situate themselves in a specific dive resort for this reason. There are no specific dive resorts on Antigua, however Sandals do go diving for their guests but it isn't included in the all inclusive.
Antigua dive sites worth mentioning
Most of the best dive sites in Antigua are around cades reef. This is also one of the main spots for snorkelling. Your dive operator may do cades reef regularly.
Double Dip
Out in the seeming middle of nowhere you can get down to 22m here and maybe get lucky enough to see some sharks. The reef is healthy and part of the Cades Reef System. This site was found when the Antigua Boat Yacht race markers were installed.
Sunken Rock
Pillars of Hurcules
The Pillars are above the water but boulders and good coral make this dive site one of the best on the island and the south side. This is also one of the best snorkeling spots in Antigua too.
Cape Shirley
For snorkeling in Antigua there is an interesting wreck at the mouth of Deep Bay the Andes wreck is nice - but is a bit of a swim out beware of jetskis.