Land based trip report for
Exuma

Bahamas


Prior to diving Exuma, I had searched for Exuma trip reports, found few and even less land based reports. So here are my experiences and a few photos.
Warderick Wells Exuma
General information
My wife and I visited Exuma from June 1st through June 8th, 2010. We flew from Denver to Miami to Georgetown, Exuma with AA and American Eagle. The return was Georgetown, to Rock Sound, Eleuthera (not listed in the itinerary), to Nassau, to Miami to Denver with BahamasAir, American Eagle and AA respectively. The return took quite some time. All flights were on time but the domestic flight from Georgetown to Nassau was full from Rock Sound to Nassau due to a high school class boarding from a semester in Eleuthera (though noisy I appreciate the birth control reminder). Additionally, The Georgetown to Nassau on BahamasAir was considered a domestic leg and beware of additional baggage and weight fees.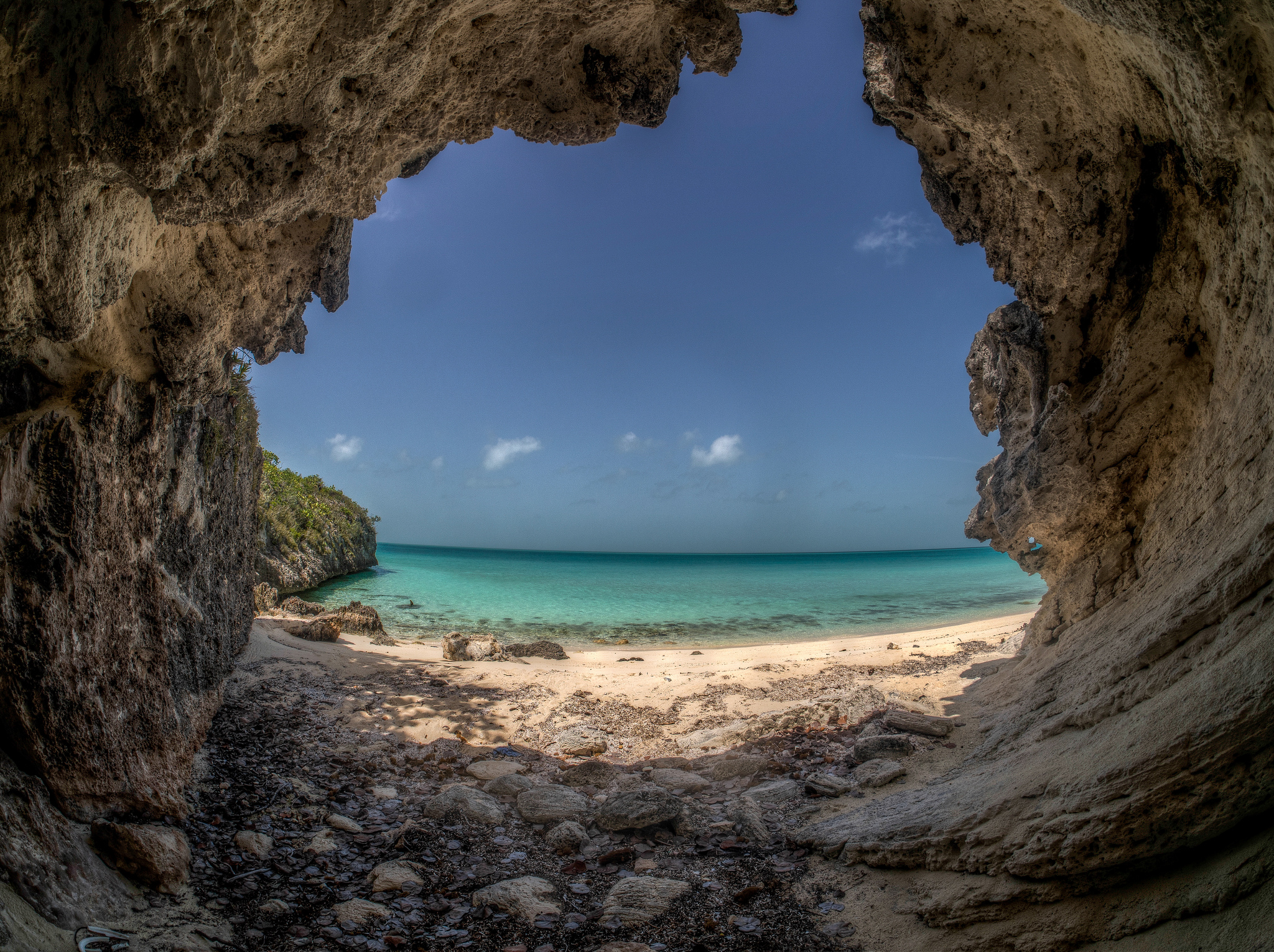 We decided to stay at Sandals Emerald Bay due to heavy discounts and reports of Exuma being a good place to dive. At the time, Sandals neglected to mention that they had currently only one boat so the diving was single tank per trip for certified divers. Their single boat had to take certified, certifying/resort course divers and snorkelers per day. This means that due to time constraints and only one boat that all dives are single tank dives. We were told the second boat was to arrive the third week of June, 2010 which should alleviate this situation.
The diving
Since we arrived late the first day, and going through Sandals process of signing up, we did not dive until the third day. See general notes below. Generally, reefs sites are shallow and are surrounded be sand. My wife and I brought all our gear with us to Exuma.

The first day we dove the Emerald Isle site and was 49 feet w/ total dive time 49 min. The second day of diving was supposed to be a dedicated trip to Long Island for a two tank dive but a lightning and rain storm cancelled it. We were able to get the single tank dive later that same day to The Cut and was 45 feet w/ total dive time 42 min. Currents were relatively light or nonexistent but tides must be considered. While some sea life exists and the reefs are healthy I have to say that the dives were uneventful. Both were moored dives. I was told that drift diving is not generally practiced in Exuma but I could see doing it during tidal flows in cuts between islands but that was never offered by any dive shop.

Since the diving was somewhat restrictive where we were, we decided to try out Dive Exuma in February Point along with another guest of the hotel. We needed to take a taxi to Dive Exuma from our hotel and unfortunately it is expensive (~$100 US). However we spread out the cost among 3 people as the taxi charge is per vehicle. The more people the better but make sure to check the cost with the driver before leaving. The taxi was late both days.

The first day of Dive Exuma diving we arrived at the dive shop after the taxi driver could not find it and we initially ended up at a residential marina restaurant and got directions. The entrance to Dive Exuma is nearer to the main road along the main entrance road and Dive Exuma has small signs with blue letters along the way. The dive shop is located on the water where their boat is tied up. The boat has a cover in the center of the boat but in June in can be quite hot fore and aft, is clean and is well maintained. All tanks are AL 80 cu feet. Water entry is giant stride or backroll off the stern sides. Boarding the boat is via an enclosed ladder on the stern between the engines where we removed our gear that was pulled up by a crew member. I think this was to save stress on the ladder attachments though it looked sturdy to me. All dives were moored dives.

We were accompanied by a local diver and an intern for Dive Exuma for the first day. The owners and DM's, Stuart and Robbie were on the boat. We split into two groups to dive Angelfish Blue Hole. Our group entered first and proceeded to the bottom of the blue hole which at the bottom angles off to a constriction where a rope across the passage blocks further entry. Depth here per my computer was 93 feet w/ total dive time 36 min. A dive light is recommended for the bottom portion. Natural light is still visible at the roped off part but it can become silted up easily. We did spot several large terminal phase Blue Parrotfish which were referred to locally as Bumphead Parrotfish. Several small schools of fish are also inside the bluehole. I recall that they were grunts but have no photos. There is not much coral inside Angelfish bluehole. We exited after a time and spent the remainder in shallow water above the opening. The entrance area is very shallow here.
Photo(s) by Dale London.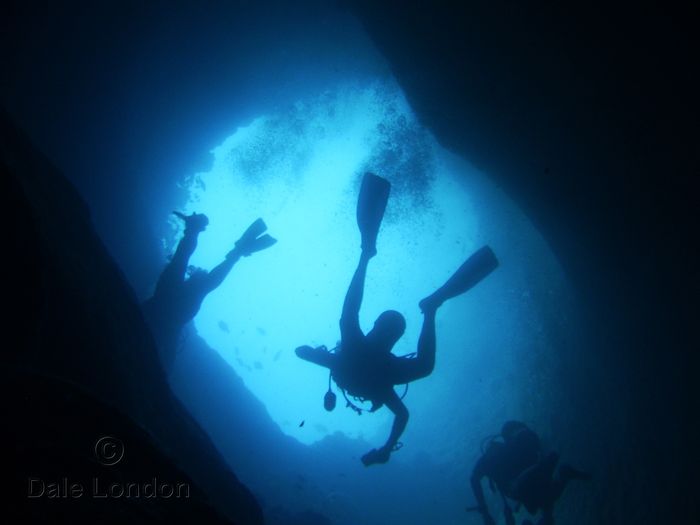 We spent our surface interval on the boat and proceeded to the tugboat wreck. The old dive site books I have (2001) do not list this site. We were told the previous Dive Exuma owners cleaned it up and sank it in the last few years. This wreck is in good shape, sits upright, and not too large but has quite a bit of life on it including lionfish, jacks, channel crabs, numerous small fish, and some resident barracuda along the mooring line. The depth was reported to be at 90 feet but I found the sand bottom to be 74 feet w/total dive time 35 min. Next to the tugboat is some healthy reef which on this day had quite a few lionfish.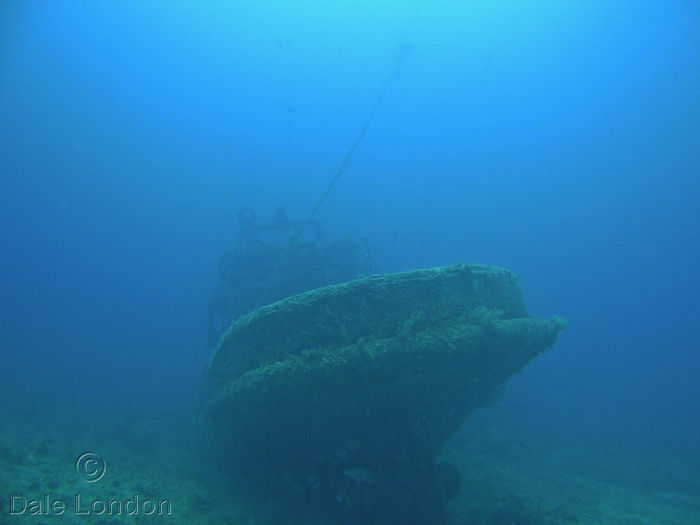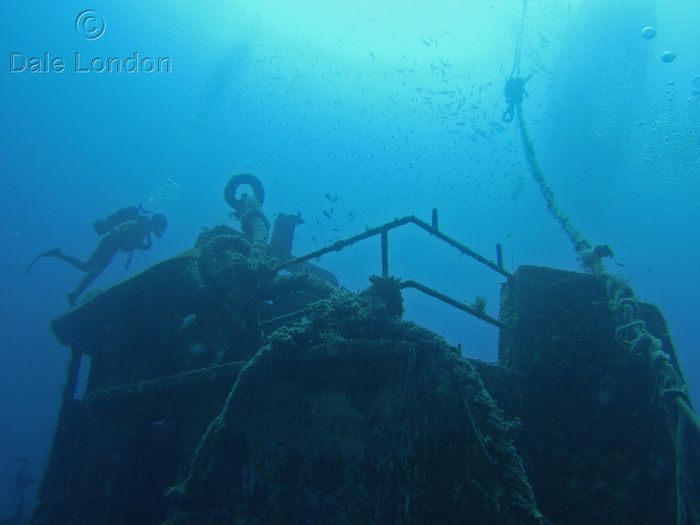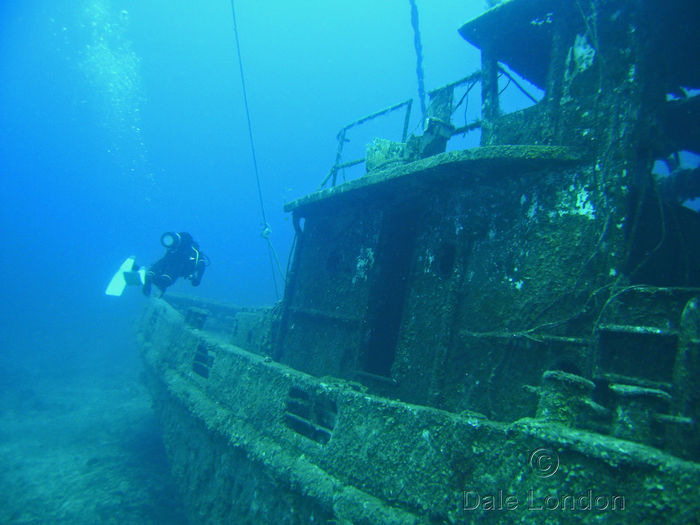 Returning to the dive shop, we paid the bill and the taxi we arranged was waiting for us. Taxi payment is paid upon return to the hotel.

The second dive day we dove Elizabeth reef. This is a healthy reef is near Stocking island as I recall and is healthy but not large amounts of fish life though a few large lionfish were present. To be fair since our taxi was late, we dove late, so it could be different earlier in the morning. Having dived in other parts of the world we thought that the reefs in general were somewhat monochrome to the naked eye, the strobes on my camera did bring out more greens, yellows and some blues. This dive is shallow and ranges from 15 to 30 feet. My dive was 29 feet w/ total dive time 63 min.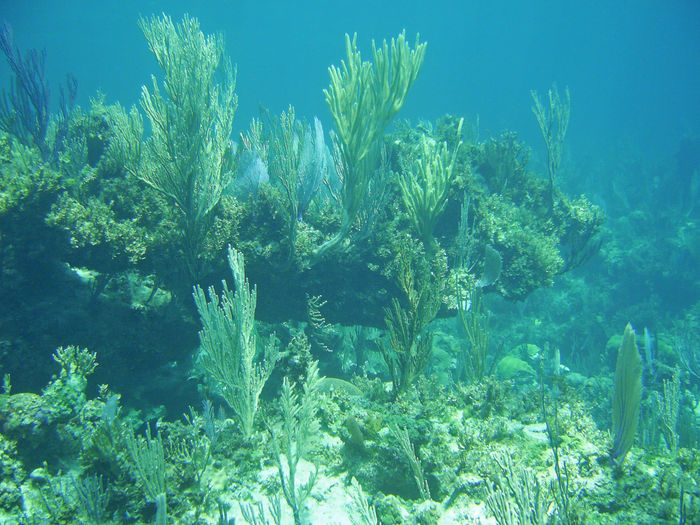 Since we could not decide at the dive shop what we wanted to do for the second dive, we dove the deep dive second which was the tugboat again. In addition to the same description above, we found two octopi in the reef next to the tugboat. The first had drawn in a conch and was apparently having lunch (and the photo is not clear). The second withdrew into a hole before I could get a photo. My dive was 74 feet/total dive time 43 min.

The water was very calm at all sites including the tugboat. It was reported that the water could be quite rough at the tugboat site as it nearly borders the Atlantic. The weather was hot. On sunny days, the air temperature was high 80's and low 90's F a couple of days. The water temperatures were at a minimum of 79 F and a max of 82 F on all dives and at depth. Sites were near Stocking and Elizabeth islands.

I don't think Dive Exuma's boat is suited to travel to Long Island however. The only downside is the cost at $175 US per two tank dive with discounts for packages. Additionally, have a 5% surcharge for credit card use onsite (no Amex).

Transportation
As described the taxi fares are high. Rental cars were available at $75/day. Driving is on the left. The dive shop reported that the previous owners had a shuttle they ran to pick up divers but the taxi drivers seemed to have a problem with it so there is no hotel pickup by Dive Exuma. It reminds me of the taxi union situation in Cozumel Mexico. Sharing a car may be the way to go but check with the rental company on allowed drivers.

Sandals diving
We have stayed at other Sandals resorts and, concerning diving, I don't know why I keep doing this to myself. The Sandals dive operations are run professionally and with safety in mind. They are geared for beginner and honeymoon divers. Their boats I believe are 42 foot Nekton and very new and clean. Their rental gear appears to be new and maintained from what I observed. However, when the first person in the group reaches 1000 psi, the entire group has to come up. This can lead to short dives. They can be somewhat draconian about playing follow the DM, total dive time, etc. I have close to 400 dives from Fiji to the Caribbean but was still treated like a new diver. It is their operation and boat, so it's their rules but we moved on to another dive op. All dives we did with them were shallow reef dives (30-40 feet). The total dive time starts when the last diver in the group enters the water.
In addition, I have not logged my dives for about 13 years and just download the dives off my computer when the functionality existed. Sandals wants to see log books, but fortunately my last twenty dives were on my dive computer and they were accepted. Otherwise I might have ended up in the pool demonstrating skills.