No matter which part of the world you are flying from, if you are heading to the Dominican Republic on vacation the chances are that you will be looking for a great deal on the cost of your vacation including cheap airfare to the Dominican Republic. But often you will be going all inclusive as this is one of the islands best value all inclusive places.
For many people, the cost of the airfare to this destination is the most expensive part of the trip, which means that it can really pay off to find a good deal on the cost of the flights. There are a number of different airports that you can fly into when you are visiting the Dominican Republic, with a range of airlines operating from a variety of global destinations.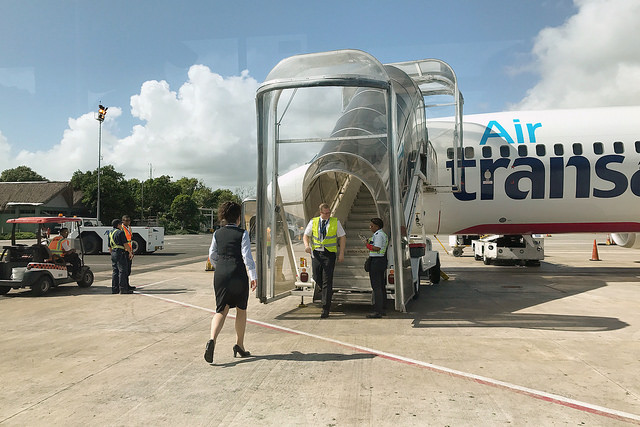 Punta Cana International Airport Source - CC FLickr
However, it is important to bear in mind that the cost of flights to this destination can vary quite dramatically between airlines and travel companies, so it is well worth shopping around to try and get the best deal. There are a number of things that you can do to try and boost your chances of getting a great deal on the cost of your flight and the effort that you put in could prove invaluable when it comes to saving you money and making your vacation to the Dominican Republic more affordable.
Some of the ways to cut the cost of airfare
There are a number of different ways in which you may be able to cut the cost of your airfare when you are heading to the beautiful Dominican Republic – and you will enjoy this fantastic destination all the more when you know that you got a great deal on your trip! Some of the tips to help you cut costs on airfare include:
> Make sure you compare airfare from a number of airlines: The cost of airfare can differ quite significantly between different airlines, so do your research, get online and compare the cost of flights in order to try and get the best deal - you can use tools like skyscanner.net to help you achieve a faster search.
> Try and be flexible with your travel dates: Some days it can be cheaper to travel than others, which means that if you can be flexible with the dates on which you travel as well as the time of year that you go, you could save a lot on the cost of your airfare. Being flexible with regards to the airport your depart from or arrive at can also help
> Keep a regular eye on flights: Sometimes airlines and travel companies have flash sales or special deals that are only available for a short amount of time. Keep your eyes peeled for these as otherwise you could miss out on a great offer
> Book your flights and hotels as a package: Although this is not always the case, you may sometimes find that you can make a significant saving on your flights when you book a package vacation. However, always check this against the cost of booking separately, as sometimes you may find a special deal on flight only that can make it cheaper to book your flights and accommodation individually.

You may well find the all inclusive deals to the Dominican Republic hard to beat and unless you need more than a 3 week stay then this last tip could be the best one. Especially with a family.