Dominican Republic Diving Locations
The Dominican Republic's underwater world offers exceptional reef diving and snorkelling, incredible clear water and a variety of colourful marine life. In fact the country is often listed as one of the top diving locations in the Caribbean. Visitors can explore centuries old shipwrecks on the countries north coast , or take advantage of the warm , protected waters of the south. While the Dominican Republic is a haven for experienced divers most all inclusive hotels offer lessons and certification for those interested in learning more about the act. The average water temperature is between 25-29 degrees c or 76-82 degrees faranheight.
Seven Brothers Cays Source CC Flickr
East Coast Diving and Snorkeling
La Romana
Just a boat ride away from La Romana sits the impressive Saona Island.
A protected sanctuary within a national park, the island boasts abundant wildlife and marine life. Such as turtles whales and sharks and is considered to have some of the best coral formations in the country. Also near La Romana, the large schools of fish at Bayahibe are accustomed to interacting with divers !Bayahibe also has its share of man made wrecks for divers to explore. Two of these wrecks Saint George and Embassy are over 240 ft long each. Also Bayahibe has one of the largest marine parks Parque National del Este.
Punta Cana
Located on the east coast of the Dominican Republic Punta Cana features the longest coral reef on the island. Due to the convergence of the Atlantic Ocean and the Caribbean Sea the diving conditions here can be rough and is not recommended for beginners. If the ocean is not agreeable then an excursion inland to a fresh water dive can be made and this is an altogether different experience.
North Coast Diving and Snorkeling
Sosua
Located near Puerto Plata, Sosua offers some of the North Coats best diving. Not only are the sites home to countless varieties of tropical fish and marine life but whale sharks manta rays and dolphins have also been known here. Shallow reefs allow beginners to get comfortable with diving and the underwater world, while more advanced dive sites are only minutes away among the most popular sites are Las Palmeritas the airport wall five rocks and La Piramide.
Puerto Plata
Heading west from Sosua along the north coast are interesting wrecks off the shores of Cofresi and Monte Cristi. In 1563 the three Spanish ships Santa Catalina, San Jorge and Santa Maria were caught in a storm and crashed into a reef in the Monit Cristi area. While the Santa Maria has been salvaged, the other two ships drifted off and sank between 60 and 90 feet.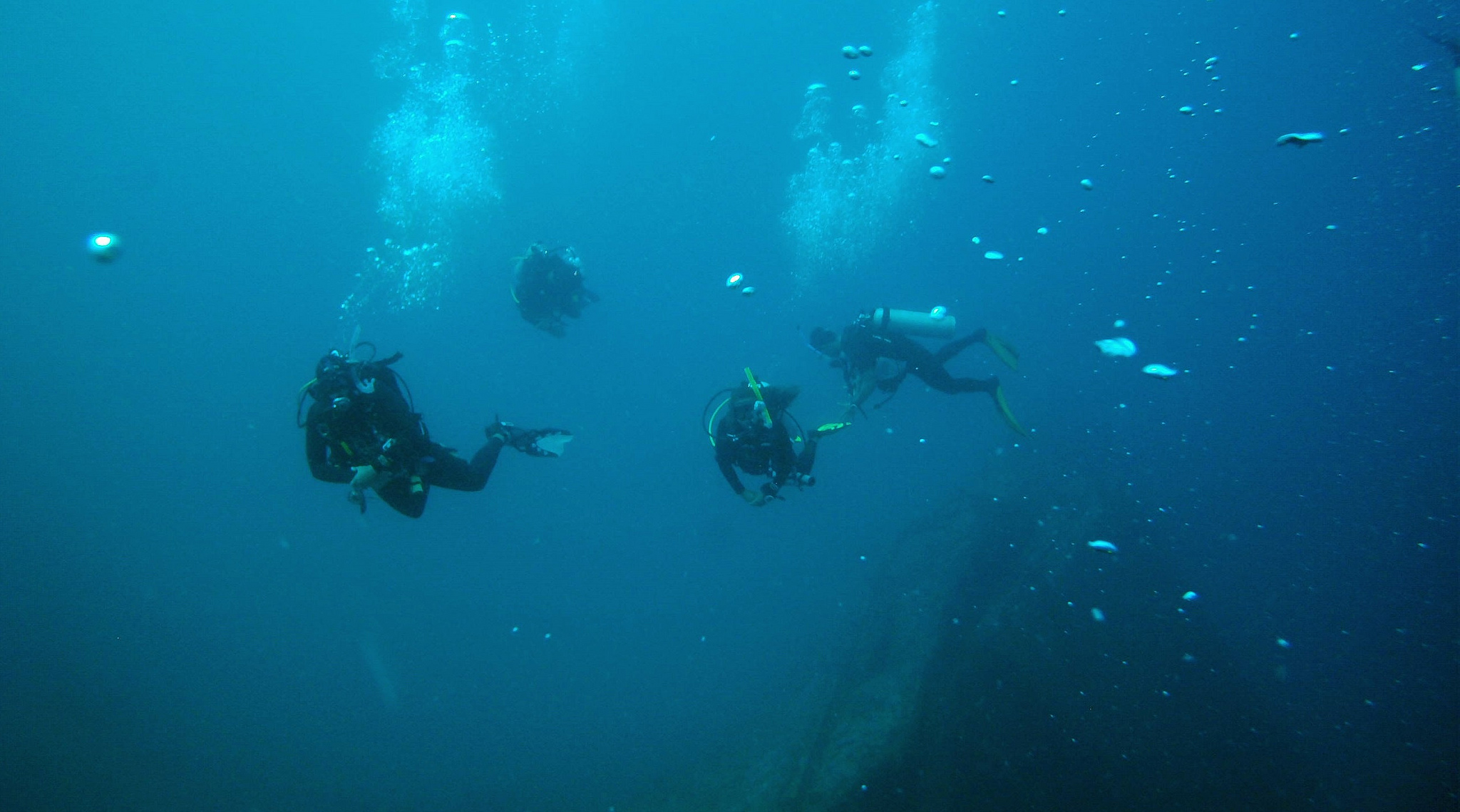 Unknown Wreck Dive - Check for update from Source CC Flickr

One tip is a dive trip to Punta Rucia near Monti Cristi. There , a circular coral reef called Cayo Arena (sand island) has incredible coral diving. Cayo Arena is sometimes covered completely by the ocean, and at other times is extremely visible for topside exploring. The best months for diving in the North Coast are June to September when the water is calm and visibility is at its very best.
North East Coast Diving and Snorkelling
Boca Chica
Just east of Santo Domingo near Boca Chica, divers can visit the well known wrecks Hickory and Limon at La Caleta Underwater National Park. Cave diving can be done at Cueva Taina, a system of long, winding caves stretching 300 feet. Also on offer are Night dives and freshwater dives.
Juan Dolio
The house reefs in jaun Dolio offer great range in depths as well and visibility between up to 100 feet. Another draw to the area is Tanya V, a more recent wreck from 1999. Just an hour away from Juan Dolio lay some of the best diving and snorkelling sites off Catalina Island. The black coral and marine life is exceptional in the area with the possibility of seeing black tips and hamers and big rays.
Ocoa Bay
Just a 2 hour drive west from Santo Domingo, Los Bajos in Ocoa Bay is an isolated area with large populations of fish while a less travelled are the bay is a weekend haven for Dominicans with its gray sand beaches. Dive operators in the area have options for advanced divers seeking dives on historical ships and aircraft wrecks.
Top Dive Sites of the Dominican Republic
Catalina Island
Catalina Island is a 30 minute boat ride from Bayahibe area, but it is considered one of the diving highlights. There is a wall on the north side dropping from 15 to 130 feet the shallow reef at the top is rich. The drop is filter feeder heaven with black coral vase sponge and large elephant ears. On the south side is a shallow reef known as aquarium. Here pilar coral rule and schooling grunts hide in the recesses.
St George
The ST George is a large freighter about 200 feet in length sunk in early 1999 as a dive attraction. Now she sits upright along a reef slope with her bow at 140 feet and her propellers in the sand at 100 feet. The wheelhouse and stack remain in good condition.
Hickory
The Hickory was purposely sunk as a dive attraction in 1986 and now sits perfectly upright on the sand at 64 feet. The 135 foot freighter got hammered by hurricane Georges but still hosts a massive number of fishes particularly sergeant majors and blackbar soldierfish. The sponge encrustation and marine life make this a must do for underwater photographers.
El Limon
El Limon is a 120 ft tug sunk near the hickory. It is at a depth and closeness that this is dived as the next dive after the Hickory on a two tank dive.
Tanya V
Purposely sunk as a dive attraction by the owner of the nearby Coral Costa Caribe Resort, the Tanya V is a 120 foot cargo ship sent to the bottom Oct 22 1999. Already the stern is home to large schools of grunts and goatfish. She sits in 110 feet of water.

Canyons
This site ranges in depth from 35 to 80 feet with crevices hosting moray eels spiny lobster and variety of invertebrates. Atlantic spadefish commonly cruise the water column above these coral canyons.
The Tower (Cabo Cabron) Depth 130 +feet.
The boat drops you into the churning channel between rock and mainland. Keep your eyes peeled for dolphins, which frequent this spot. A giant pinnacle formation emerges from 165 feet, encrusted with sponge and cascading coral where lobster and crab are often found. The best way to see it all: Drop down to 90 feet and slowly swim up and around the peak.