2 minutes reading time
(400 words)
An Intro to Bonaire for the Caribbean addict
Photos thanks to AQUILASTEVE
Bonaire is primed as a fantastic vacation destination by its proximity to the equator. exactly 12 degrees north or the equator gives a year round average of just over 80 F. It does get rainy days in the 'rainy season' Oct to Jan. The showers are not torrential normally adding up to 20 inches per year. October sees the most cloud cover at 50% marking the start of the rainy season when you could get some light showers breaking up the heat. There's a pretty consistent easterly 12 not wind that blows.
Ok great so it's good for most any sport except climbing with a highest point of just 780 feet. Bonaire is most known for its reefs surrounding the island. Scuba divers flock here to take advantage. It's particularly good for diving because the reef is close by lending itself to be shore dive capital of the world but its the clarity of the water you will be impressed by. Being a dry island there is little runnoff as well. The conditions are set for fantastic diving. You can fill your tanks in a drive through - the only place in the world. Drive to any place marked by a yellow rock and you have a shore dive. So also you expect snorkelling and kayaking to be popular as reefs knock the surf down.
Other top activities in Bonaire include
Windsurfing, kitesurfing, hiking
Horseriding
Bonaire is one of those places that for whatever reason has remained unspoilt. It has the typical unhurried pace and is backpacker friendly as much as support the luxury flashpackers alike.
Some things to note for Bonaire
The donkeys in Bonaire are remnants of the 1500's as they were imported by the colonists (initially the Spanish) sometime later the salt industry developed and they were again useful but today they are often considered pests eating the vegetation which increases the erosion of an already arid island. So long as their numbers are controlled they may be a part of the charm that is Bonaire.
Barcadera Cave - escape the sun and admire the formation of the stalectites. ask any local for directions.
Boca Slagbaai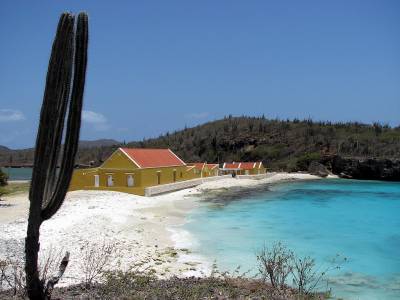 Washington–Slagbaai Park - inside find bocca slagbaai or beach slagbaai a great place to snorkel. A general great buy if you don't have them are reef shoes of course you brought already fins and mask didn't you ?
Comments
No comments made yet. Be the first to submit a comment
By accepting you will be accessing a service provided by a third-party external to https://www.caribbean-diving.com/