3 minutes reading time
(529 words)
Exploring The Caribbean From The Sky, Sea And Land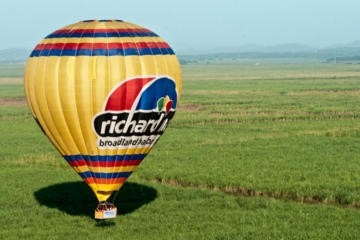 Baloon Tours Caribbean
The Caribbean Islands are amazing places and they are worth exploring from all angles. Floating over picturesque Caribbean islands offers an amazing perspective.
If you are looking for a unique, special experience for your next holiday, why not try a ride in a hot air balloon. Whether a fan of photography, nature, architecture or adventure, hot air balloon flights have lots to offer. Imagine passing over ancient ruins, tranquil jungles, or beautiful beaches, seeing an entire island from the sky.

If you don't feel like taking to the skies for balloon rides, consider visiting during the Caribbean Hot Air Balloon Festival, which takes place each year on Antigua during the last week of November and the first week of December. This festival is amazing to watch, even from the ground, as you see hundreds of brightly coloured balloons flying by, filling the sky with a rainbow of colours.

Balloon rides are a very different experience to travelling in an airplane or even a helicopter. Looking out of the window of a traditional aircraft offers some spectacular views, but you are high up and separated from the places you are looking at by thick windows. It is a great experience, but nothing compared to feeling the wind on your face. Helicopter tours, in contrast, offer amazing opportunities for amateur photographers, but they are quite a noisy experience.

Go Where The Wind Takes You
Hot air balloons travel with the wind, so each ride offers a different experience. You never know exactly where the wind will take you. This adds a lot to the sense of adventure. Since the weather in the Caribbean is usually warm and calm during peak holiday periods, it is easy to find flights at convenient times of day. No matter where the wind blows you will be able to enjoy spectacular views of volcanoes, historic ruins, beaches, jungles and more.
You can find baloon rides in the Caribbean here on the viator tours website.

If you are looking for a relaxing experience that offers both the opportunity to take some amazing photographs, take in the sights and learn about the mode of transport you are using, then a balloon tour is the way to go. After the tour, you can, if you wish, assist with the deflation of your balloon, or, you can head straight to a champagne reception to relax with your travelling companions and talk about what you have just experienced and share your favourite holiday smaps.

Other Great Caribbean Experiences
There are many other amazing things to do in the Caribbean. From snorkelling and diving trips to Jamaican sightseeing tours, trips to swim with the dolphins in Negril and Ocho Rios, volcano tours in St. Lucia and deep sea fishing in Antigua, the opportunities are endless. All you need is the will to explore what the islands have to offer.

The Caribbean is a great place for holidaymakers of all ages to explore. If you make a once-in-a-lifetime trip to the Caribbean, be sure to explore it from land, sea and air. You will be amazed at how each viewpoint gives you a vastly different impression of these amazing landscapes.

Comments
No comments made yet. Be the first to submit a comment
By accepting you will be accessing a service provided by a third-party external to https://caribbean-diving.com/