1 minute reading time
(202 words)
Underwater Sculpture News from JT
November 18th saw Jason De Caires Taylor add three new sculptures to MUSA (Museo Subacuático de Arte) in Mexico.
Please comment on the photos and what they mean to you.
Time Bomb (Mine):Depth 4m, Size 1.5 x 1.5m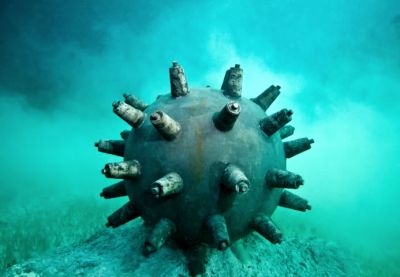 Time Bomb (fuse) : Depth 4m, Size 2.5 x 3.5m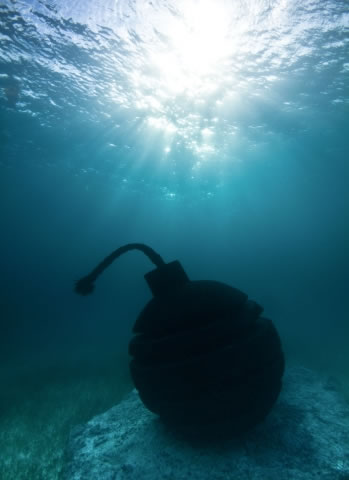 Holy Man : Depth 4m, Size 1.6m x 1m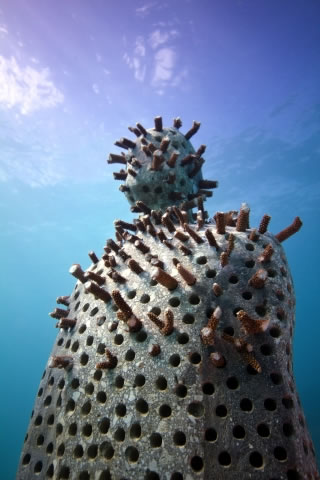 Time Bomb depicts a collection of bombs and mines designed to support marine life whilst symbolizing the critical future of our reef systems and the countdown of time we have to reverse the increasing worldwide decline. The works also portray the irony of weapons of destruction being used to support and nurture life. The various strata and textures of the constructions are designed to provide habitat space and protected areas for crustaceans and marine species.Holy Man situated 4metres below the surface is propagated with over 150 fragments of Staghorn Coral (Acropora cervicornis). The coral colony was initially grown from a rescued fragment on "The Gardener of Hope" sculpture and then divided and transplanted onto the Holy Man, which is hoped will increase its coverage and overall biomass of the species.
Part of Discovery Channel's Mega World Mexico episode follows the trials and tribulations experienced during the installation of the Anthropocene (VW) sculpture.
{"video":"http://www.youtube.com/watch?v=cxM0RPFO5eI&feature=channel_video_title&utm_source=Underwater+Sculpture+Newsletter&utm_campaign=0a589c7271-Mail+Chimp+referrals&utm_medium=email","width":"400","height":"300"}
Related Posts
Comments
No comments made yet. Be the first to submit a comment
By accepting you will be accessing a service provided by a third-party external to https://caribbean-diving.com/