11 minutes reading time
(2272 words)
Food and Drink in The British Virgin Islands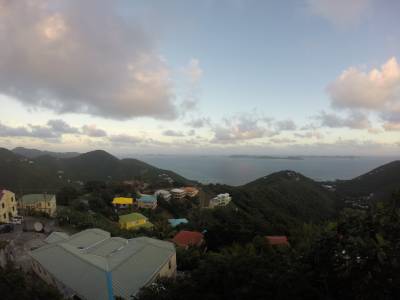 The British Virgin Islands has something to offer for everyone. Chartering yachts and catamarans? SCUBA? Snorkeling? Or something as simple as sprawling out across the white beaches that garnish the coast of every island.
Regardless of your intentions you are going to find the need to dine and drink. The BVI has everything from small nooks for coffee and pastries, to several Indian restaurants that are scattered around Road Town. There are beach bars and grills that serve everything from your standard Hamburger, Ribs, and pasta to Jerk style meats made famous by Jamaica, and Beer Can Chicken.
In every restaurant you will find the items that many come from far and wide for; the fresh seafood from the gulf stream. Everything from snapper to conch. Lobsters, tuna, jacks, lion fish, and crabs. Marlin, dolphin, and wahoo. Every restaurant has an extensive seafood portion to the menu, with a catch of the day, harvested fresh in the morning from the local markets.
If you go beyond the delicious, albeit expensive, tourist restaurants, you will find affordable delicious holes in the wall where you can get local chicken or goat cooked a variety of different ways. From baked to broiled, grilled to fried, and last but not least stewed with local vegetables in delectable gravies.
Drinks are plentiful around the BVI, a destination that is run with the casualness of a slow buzz. An island where alcohol is cheaper than water is sure to peak the interests of those looking to kick back. If beer is your poison know that you can get anyone available for under $4 at any location, with many being $2. If you head to the grocery store you can get 24 oz of presidente, a local Caribbean brew, for less than $2. Rum is the cheapest thing on the island. Make sure you stop at any of the local joints to try a rum punch or the infamous painkiller.
Tortola is the biggest Island in the BVI, and for a relatively small Island there are gems galore. Starting at the West End, you have Soper's Hole. The marina here is filled with catamarans and mega-yachts. Every week a new group of tourists come to sail, and get a taste of the Caribbean. At Soper's Hole you have the highest concentration of eateries on the west end.
On the North side of the marina, next to the ferry dock and customs office is the Fish N Lime. A nice outdoor joint with steel drum driven music a couple times a week. They have the staple bar foods, Burgers, Nachos, Soup of the day (usually a seafood or conch bisque or a delicious baked potato soup), Cerviche, Fresh Salads, wings, chicken fingers etc. They also have a plethora of chicken, steak, or pork dishes, many with a carribean twist that the spots around here are famous for. The seafood menu has many dishes made with whatever the local fishermen caught in the morning, but some everyday staples are the Carribean Lobster or the famous Calamari-Salmon roulade. Last but not least for those who would like to live on the wild side, they have a locally popular Escargot stuffed mushrooms.
Across the harbor, on the dock side are several noteworthy establishments. The first is D'Best Cup. A cozy little cafe open from 7 am-12:30 pm everyday and can meet all your breakfast needs. The name doesn't lie, as this is the best place for coffee on the island. It offers an extensive list of hot beverages, from tea's to hot cocoa to frappucinos, and my personal favorite a frothy cafe mocha. One of the few reasonably priced places on the island, it offers a full plate of breakfast for under $10. You can get the french toast, waffles, or pancakes. With that you get two eggs cooked to your liking, bacon, sausage, toast, and to top it off a light garnish of fresh oranges and cantaloupe. They also offer egg sandwiches, steak and eggs, croissants, and delicious, hearty omelettes.
Walk right next door and you are at the bar of the world famous Pusser's West End location. Here you have an extensive of list of alcoholic drinks to choose from, and you may even want to join the Painkiller club. The painkiller is a BVI original drink invented at Jost Van Dyke's Soggy Dollar Bar. The famous recipe (caution: Be careful):
Pusser's Rum (as much as you want)
4 Parts Pineapple Juice
1 Part Creme de Coconut
1 Part Orange Juice
Topped with a generous amount of fresh nutmeg, a cherry, and an orange wedge
Moving past the alcohol, you will notice an array of choices waiting for you. For appetizers you have the standard seafood fares, conch chowder, conch fritters, bang bang shrimp (a fried shrimp with firecracker sauce), coconut shrimp etc. They also have large chicken wings in a spicy island barbeque sauce, jerk ribs, jerk chicken pineapple quesadillas, and caribbean nachos with jerk chicken. They have a healthy selection of salad, the favorites being the caribbean lobster salad, and the iceberg wedge salad covered in a bleu cheese sauce and bacon bits, among other things. Now for the main courses they have something for everyone. Delicious cheeseburgers made with angus beef. In my opinion, the best you're going to find in the BVI. They also have a hot dog dubbed "The Great Dog" which is a hefty hot dog beer battered and deep fried, garnished with whatever you can imagine. Several dishes including Mahi Mahi can be seen on the menu. There are jerk chicken wraps, and a lobster sub sandwich, which seems to be present at every other table. An oddball on the menu, and one of the only places I've seen it in the BVI is the Shepherd's Pie, which is definitely worth a try. Two other notables are the chicken roti, a curried chicken wrap in pita bread, which is a local favorite, and the lobster mac 'n cheese. Last but not least is the pizza. Now I know what you're thinking, pizza in the Caribbean? If you are from New York, like I am, you may think twice about ordering a pizza anywhere other than the Empire State, but let me tell you. It's. Not. That. Bad. If you don't have the luxury of getting famous New York pizza whenever you want, then you will think it's fantastic. The monster is the one I would go with. It's a thin crusted pie topped with peppers, sausage, pepperoni, ham, and diced onions. It is quite delicious, and the best pizza by far on the island. I'll let you find out the desserts for yourself, as there are too many to choose from.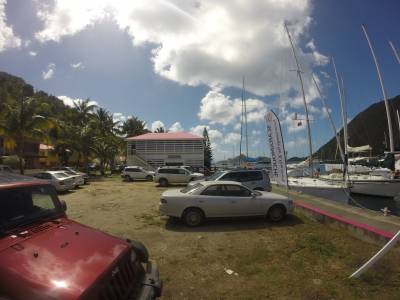 Now one restaurant that I'm not going to write in depth about is the Scaramouche Lounge. If you keeping walking west down the dock from Pusser's you will begin to hear smooth jazz, and see a very intriguing establishment. In the nighttime, you can see the lights gleaming from both floors, and you will get a piano bar vibe. You have reached Scaramouche. This is unlike any other restaurant in the Caribbean. From ambiance to the drinks to the menu. Scaramouche is what I, and anybody who has been there, consider the best dining in the BVI. Ran by a power couple mixologist, and world class chef this is a place not to miss. I could try to begin about the food, drinks and presentation but I won't because no words could do this establishment justice. It is a gem in the Caribbean. If you go here you will not be sorry, guaranteed
Now we will start going east toward Road Town. Along the scenic coastal drive you will notice little bars blotting the coast. These all have the standard bar food, and the catch of the day, along with some of the cheapest beer you'll find in a restaurant around the island. At night be sure to keep your eye, and nose, out for roadside barbeque's. They are all delicious and some of the only affordable prices on the island. In Road Town there are several places to check out. On main street there is a coffee shop that is ambiguously named right after the Bomba Shay. After being here months I still don't know what to call it. It's right on the turn though, and if you can find it, go in. It has a beautiful coffee shop vibe. All the coffee you could want, and delicious pastries and cakes to boot. Keep going along Main Street, and you will see the Live Well cafe on your right. Here you can get all your morning nourishment at a reasonable price. Pancakes, Johnny Cakes, sausage, eggs, bacon, meat patties, pastries etc. Definitely worth a stop. One of the more affordable locations around. Keep going down Main Street and you will run into the Serendipity bookshop. Above the bookshop is an indian restaurant. Now I don't like Indian food, but I occasionally drink here, and use their internet, and the family who runs it, are nothing but kind. Everyday they get a large local lunch rush too. Everyone I have asked has said it is one of the better places around, and I have found out that it is always good to take the locals word.
In Road Town there is also another D'Best Cup location, open all day, and turning into a bar at night. There is also Boumba Shay. This is a nice little restaurant with everything you'll see in every other place, but there attraction is their specials menu. Beer Can chicken (chicken baked with a can of beer, of your choosing, inserted inside), duck, lamb, steaks, and the catch of the day. If you go to any of the restaurants on the dock, you'll will not be upset as they have all the standards, plus an assortment of seafood specials.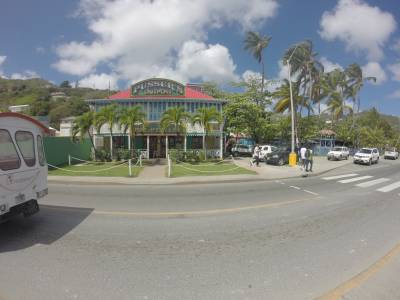 Stop by Pussers Outpost, the Road Town location of this franchise, for everything you would get at Pusser's Landing in Soper's Hole, with a nice bar atmosphere.
On the North side of the island, Brewers Bay, Carrot Bay, Capoons Bay, Cane Garden Bay you will find a choosing of scattered restaurants offering more bar food and seafood, and are all worth a try.
If you want to watch a sporting match, and get the closest to American bar food (nachos, wings, chili, chicken fingers, quesadillas, ribs, subs etc.) the spot for you is Mulligans in Nanny Cay. A nice open air bar with a TV anywhere you look, and a channel package that will offer you hockey, soccer, American football, basketball, baseball, rugby, cricket, and just about anything else you could imagine.
Now many of the other Islands have notable restaurants here and there. In Virgin Gorda you have a beautiful restaurant atop the world famous Bath's that has a delicious menu, and a stunning view, and on Norman Island you have Willy T's which is an old ship with a rather rambunctious bar atmosphere. Topless women are a frequent site here, so if you have children you may want to steer clear of this location, but they have a pretty good chef who will whip you up something to soak up the alcohol.
The last island I will talk about is Jost Van Dyke. Starting with Great Harbour there is Ali Baba's which is a nice little spot. If you are looking for an inexpensive, and large meal you should find Lydia at Eat Ah Vania's. This little shack offers a couple options each day, that you wouldn't know about it, well, unless you know about it. Everyday she cooks Curry Chicken Roti, grilled chick
en breast, goat, fried chicken, beef or turkey stew, or cheeseburgers accompanied by a small salad, macaroni salad, mac 'n cheese, fresh french fries, rice and beans, or rice and lentils all for under $15. Next door to this is Corsair's, an expat bar with a great chef and one of the most extensive seafood menus, though a little more expensive. Here you can get your standard choice cut steaks: Filet Mignon, or Rib eye, and a large selection of salads. The real gem here is the seafood. You have your usual catch of the day. Beyond that you have Clams, Mussels, Calamari Cerviche, Crab Cakes, Conch Fritters, Ahi Tuna, Scallops, and Cioppino (shrimp, scallops, mussels, clams and fish in tomato broth). They also have a nice fresh menu. Fresh Lobster, Fresh Grilled tuna, Fresh Grilled Mahi, and whatever else the local fishermen bring in. To top it off they have a great fettuccine alfredo, pan seared chicken, and shrimp scampi. If you go east down the island 5 minutes (walking) you'll run into Foxy's. Foxy's is a locally owned restaurant ran by a very colorful native. Foxy's offers four beers brewed in their microbrew outback, plus a rum (Foxy's Firewater) that shouldn't be missed. Now they have a standard menu, but the real event here is the barbeque, with a smell that dwells over Great Harbour. Every Friday and Saturday the grill gets fired up. Their famous Caribbean BBQ boasts fresh salads, fruits, vegetables, BBQ Chicken, Ribs (like you've never had before), and Mahi-Mahi that melts in your mouth.
If your main goal is to drink on the beach during the day head over to White Bay, Jost Van Dyke for finger foods and a party atmosphere. Here you'll find the home of the painkiller, The Soggy Dollar Bar. There are bars up and down the beach all with drink specials and small dishes to hold you over until you can get to one of the great restaurants here.
Comments
2

well i have intl food and beverages title and live actually in chile britislanads offer to me many options please sendmeinfo thanks
rafael merino on facebook gracias amigos
well i have intl food and beverages title and live actually in chile britislanads offer to me many options please sendmeinfo thanks rafael merino on facebook gracias amigos
By accepting you will be accessing a service provided by a third-party external to https://caribbean-diving.com/