4 minutes reading time
(746 words)
RELAXATION AT DIAMOND FALLS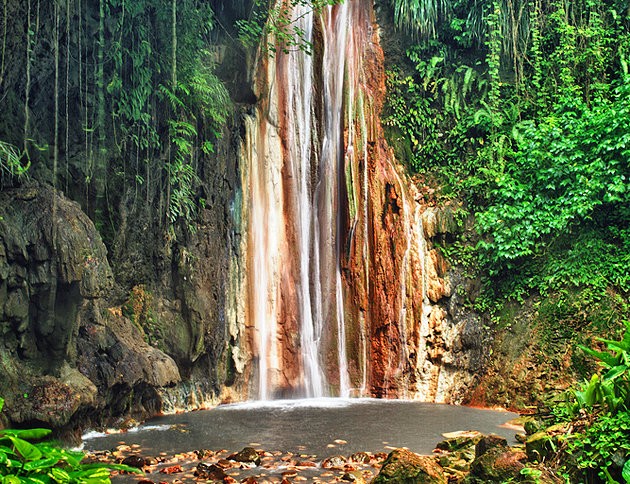 In St Lucia, Soufriere is well known as a must-visit tourist destination, but still manages to feel authentically Lucian. This small town is surrounded by rainforest trails, towering hills covered in lush vegetation, and Petit and Gros Piton, two huge hills jutting out of the Caribbean sea, that are a UNESCO heritage site and the namesake of St Lucia's local beer brand.
The atmosphere of Soufriere is a world away from the urban bustle of Castries and the sheen of Rodney Bay. A casual friendliness enhances the relaxed atmosphere.
And there is nowhere more relaxing to visit than the Diamond Falls Estate. On the site of a former plantation, it now holds sulphur rivers, extensive botanical gardens, a restaurant, and of course, the falls that give this outstanding place of natural beauty its name.
The sulphur springs are caused by volcanic activity tens of thousands of years ago that have caused the water to have high sulphur content and be naturally warm. The waters are said to have therapeutic powers, being helpful in easing rheumatism, respiratory problems and especially stress. King Louis XVI took advantage of this and erected twelve stone baths in the 1700s. These were later destroyed and remained in ruins until restored by Andre du Boulay in the 1930s.
There are now two indoor baths for private use. Each bath can hold two people and would be suitable for a family with young children to share. There are also a series of outdoor pools for communal use - remember to pack a bathing suit and towel! The slots to enjoy the baths are generally around half an hour, but if you arrive early (the Estate opens at 10am every day) you may be able to avoid the rush of tourists on day tours and have a little longer to enjoy the warm healing waters. At just 7 USD for the private baths and 6 USD for the public, it won't hurt your pocket to indulge.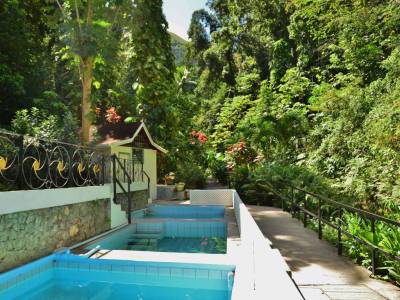 The entrance fees are 7 USD for adults and 3.50 USD for children, so in every aspect, a visit to Diamond Falls Estate is excellent value for money. The Estate also offers special discounts for groups, though if you choose to use the services of a tour guide, you will have to pay them directly. It is also worth budgeting for some authentic St Lucian souvenirs and food in the gift shop and restaurant to complete your experience and find something memorable to take home.
A tour guide will be particularly useful in showing you around the six acres of planted gardens. The guides are knowledgeable about the different types of tropical trees, flowers and fruits that make this Estate so beautiful. Because of the tropical weather, the garden is at its best all year round and there is no need to worry about the seasonal effects that are experienced in temperate climates. Enjoy the Heliconia aka the 'Sexy Pink', Hibiscus, Ixora, Angel's Trumpet, and other bright additions to this natural sanctuary of calm.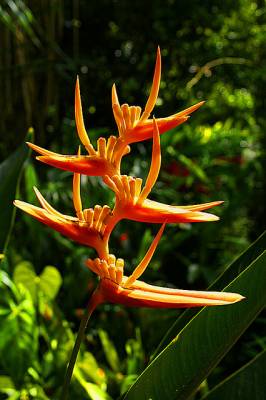 Once you've had your fill of the gardens, make your way past the baths to the scenic waterfall trail. You will walk through a pictureque path surrounded by ferns and banana plants until you are greeted with the sight of the waterfall. The Diamond Waterfall is so unusual because of the minerals from the volcanic matter that are mixed in with the water. This gives the water an unusual colour which often changes, in turn changing the rock face behind it. There is also a strong smell of sulphur, which here is refreshing and mixes with the fresh and sweet smells of the vegetation and flowers. There is sulphur soap on sale in the gift shop, so you can take some of its healing qualities all the way back home.
There are many friendly and obliging staff who take excellent care of the gardens and falls and will take equally good care of you. There are also vendors in the large car park area out front who sell very pretty handmade jewelry at reasonable prices.
Leaving the Diamond Falls, you will feel refreshed, relaxed and at peace. It is a perfect place to come before taking a delicious local lunch at one of Soufriere's many restaurants, or going for a hike through the rainforest for the more adventurous types.
Soufriere has a lot to offer those who crave tropical beauty and natural pursuits, and Diamond Falls is the jewel in its crown.
Visit diamondstlucia.com
Comments
No comments made yet. Be the first to submit a comment
By accepting you will be accessing a service provided by a third-party external to https://caribbean-diving.com/