4 minutes reading time
(720 words)
St Lucia - Battle of the Beaches
It doesn't take a lot of research to realize that St Lucia is a pretty special place. With its unusual mix of French, English, African and Amerindian cultures, beautiful beaches and undulating tropical scenery, it makes for breathtaking exploring. Add to that the excellent range of accommodations, from exclusive, adults-only luxury, to quality family resorts, and there is something to cater for everyone.
The hotels and resorts in the north of the island are spread around Castries, Rodney Bay, Cap Estate and Gros Islet, which are all within close proximity to each other. In the south, the main cluster of hotels is to be found in southwesterly Soufriere, though Vieux Fort at the most southerly tip is home to the popular Coconut Bay. The north and south offer vastly different atmospheres and experiences at their beaches.
For many people, a good quality beach is a holiday staple. Though St Lucia is relatively small at just over 600km², the road between Soufriere and Castries can take up to 80 minutes to travel, so choosing the right location for your stay could save you a lot of time and expense.
For the North
- Reduit Beach
Excellent for swimming and has a huge amount of watersports available at decent prices. Popular with visitors and locals alike, the weekends see it play host to numerous beach parties and picnics, music pumping out of beach bars and food and drink plentiful at Spinnakers.
- Pigeon Island
Small, shaded and picturesque, this is much quieter than Reduit and is a good choice for families. Just inside Pigeon Island National Park, they attract a small fee but have great parking facilities and quality local restaurant Jambe de Bois nearby.
- Choc Bay
A favorite with beach volleyball enthusiasts and locals, it has an easy ambience and lively waves. It is easily accessible by the highway, but this takes a little away from its charm what with traffic noise and little feeling of remoteness. However walk a little further along onto the Sandals section of the beach offers a more relaxing atmosphere.
- Labrelotte Bay
A gorgeous sandy beach located near Windjammer Landing, with clear water that is excellent for snorkelling and swimming.
- Vigie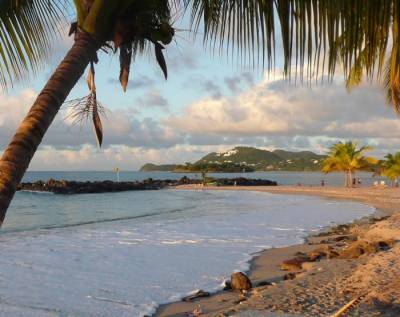 Just a short walk away from the capital Castries, Vigie Beach is a long stretch of beautiful sand that runs parallel to the smaller airport runway. This airport only serves flights between Caribbean islands and is not nearly as busy as Vieux Fort airport, so it shouldn't serve as a distraction. There is only one hotel further down the beach, so the majority remains relatively quiet, except on public holidays where local families play cricket, football and have barbeques and picnics.
- Marigot Bay
Secluded, with some of the best views of the sea and lush, virgin hills in the north, Marigot Bay has a small beach and plenty of others reachable only by boat. As yachts and all manner of other boats including sailing and motor boats dock in here, take a water taxi and cruise the coast to find your own secret beach.
For the South
- Anse Chastanet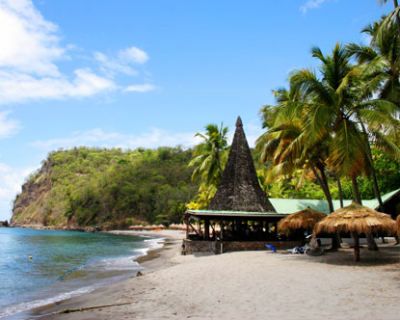 Though difficult to get to, with a 15-minute drive up a winding path, the Anse Chastanet resort is host to one of the best beaches in the south. Though the drive may be demanding, it pays off due to the privacy. The only people to use this beach are those from the hotel and the boutique hotel built onto the hills above. It is so off the beaten track that there are no swarms of tourists, and no weekend beach parties for the locals. Dotted with thatched umbrellas and palms, it is nestled into steep hillsides of forest and rock. It is excellent for scuba and snorkeling though, with a thriving coral reef just off shore.
- Anse des Pitons
With white sand imported from Guyana, this beach is between the two Pitons and has a luxurious feel as it is part of the Sugar Beach Resort. You can pay to rent sunloungers, kayaks and snorkelling equipment, and there is a beach bar and restaurant, though it is on the expensive side.
Although the beaches in Soufriere are gorgeous, the sheer amount of choice in the north makes it perfect for beach lovers.
The winner is... NORTH!
Photos courtesy of destination360.com, wheretostay.com and web.onetel.com
Comments
No comments made yet. Be the first to submit a comment
By accepting you will be accessing a service provided by a third-party external to https://www.caribbean-diving.com/