4 minutes reading time
(818 words)
'Immersion' in St Lucia - Part 2
To continue on your St Lucian immersion journey, you could...
6. Go 'Square'
Assou Square, held on January 1nd and 2nd every year and affectionately called 'Square', is a celebration that all the family can enjoy. Traditionally celebrated in Walcott Square in Castries, it has been tried in different locations in recent years, though it returned to its city-centre home last year and looks like it will stay put for the next few Januaries.
A main stage is set up to host a huge variety of entertainers throughout the two days. Calypso singers, known as Calypsonians, strut their stuff to the frantically-paced beats and chant uplifting lyrics in an explosion of energy. St Lucians try their hand at Country and Western singing and dancing, and the most talented receive prizes and accolades.
Stalls abound with a huge variety of hot food, snacks, soft drinks and chilled alcoholic beverages, including the local 'Piton' beer. There's plenty to do for kids, with games, bouncy castles and face painting to keep them occupied.
7. Travel by minivan
St Lucia's bus service is a large fleet of minivans, 12 to 14 seaters that follow set routes all around the island. Extremely affordable, an 80 minute ride from Castries to Soufriere costs just 8 XCD, equivalent to approximately £2 or 4 USD. Shorter rides are generally 2 to 3 XCD.
Be warned - you are at the mercy of your bus driver's musical tastes! Reggae, Gospel or Country and Western music is likely to be the soundtrack to your journey.
Ideal St Lucian bus etiquette would be to say 'Good morning', 'Good afternoon', or 'Good night' to the other passengers when you board, depending on the time of day, to let the driver know if you're going to an unfamiliar place so he can let you know where it is, to say 'bus stop, driver' just before you want to get off, and to give the driver your fare through the passenger window after you have exited the vehicle. Try to carry small change or use a 5, 10 or 20 XCD note. Drivers rarely take kindly to 100 XCD notes and have been known to give you a free ride rather than bother to change them!
8. Shop at Castries market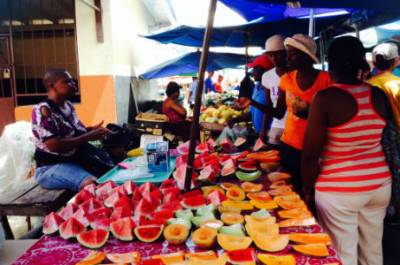 Castries market has two sections - the tourist section that sells souvenirs in USD and the local section that sells fresh food in XCD. For an authentic St Lucian experience, head to the latter. Pick up some papaya, pineapple, banana, plantain, okra, pumpkin, watermelon or yam, all locally grown. For something you've never tried before, ask for a breadfruit, a soursop or one of four types of apples - love apples, sugar apples, custard apples or golden apples - none of which are like regular apples!
100 XCD will buy you groceries for two for the week in the fruit and vegetables section, where local ladies lay out their attractive array of produce. There is also a meat section and a fish market, and it is in close proximity to the tourist goods area, in case you do feel like buying something to take home.
You'll hear the local dialect, Patois or Kweyol, a form of broken French, spoken at the market. 'Bon jou' and 'merci' are words that have been carried over straight from French, so delight some local old ladies by giving their dialect a try. If you're not feeling so brave, don't fear, they speak English too!
9. Attend church
The huge majority of St Lucia's population is Roman Catholic, but there are an abundance of churches of all persuasions - Baptist, Seventh Day Adventist, Pentecostal and Jehovah's Witnesses among others. St Lucia is a very religious country, prayers sometimes opening meetings and public events, so checking out their churches will give you a peek into authentic St Lucian life. Keep your eye out for a striped tent, in different locations at different times of year, that is home to the Seventh Day Adventist's all-day family events, such as the Prophecy Expo.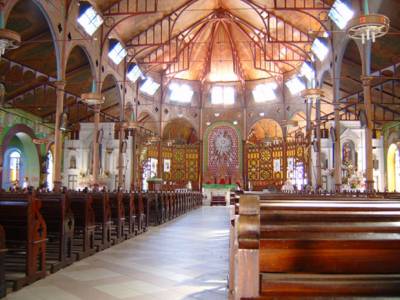 The Immaculate Conception Catholic Church in the centre of Castries boasts beautiful architecture, stained glass windows and intricate painting work, as well as two lively Sunday Mass services.
10. Drink fresh coconut by the roadside
It's an everyday thing in the Caribbean to see a suited and booted exec pull his saloon car up to the side of the road to drink out of a freshly-chopped coconut before he makes his way to work. A favorite with schoolkids, workers and just about everyone else, coconut vendors park their pick up trucks full of green and orange coconuts by the roadside and sell their wares for 2 XCD each. Though St Lucia has coffee shops, too, coconuts far surpass them in popularity, and we're tempted to say that this roadside experience is the equivalent to an American's morning cup of coffee.
Images courtesy of Stlucianewsonline.com, fodors.com and socialregister.co.uk
Related Posts
Comments
No comments made yet. Be the first to submit a comment
By accepting you will be accessing a service provided by a third-party external to https://www.caribbean-diving.com/