4 minutes reading time
(722 words)
Top 10 things to do in St Lucia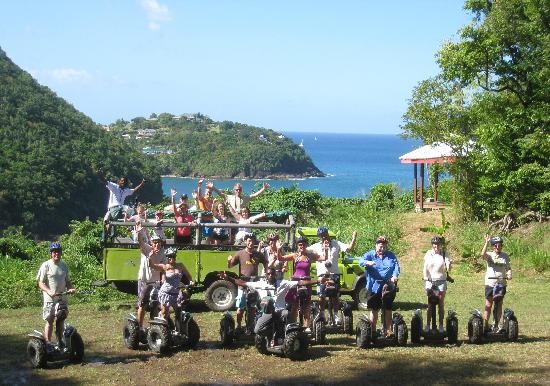 1. Drive in a volcano
La Soufriere, St Lucia's sulphur springs, offer the world's only Drive-In Volcano! Find a tour guide to drive you in to see the fumaroles, steam, bubbling lava and boiling mud, and explore this powerful force of nature.
2. Take a mudbath
After driving in the volcano, take a mudbath in the hot sulphur mud in the communal pool. Well-praised for its health benefits, it will improve the skin and overall health. Come earlier in the morning when the mud is cooler for longer bathing times, and brink a dark colored swimsuit!
3. Swing through the trees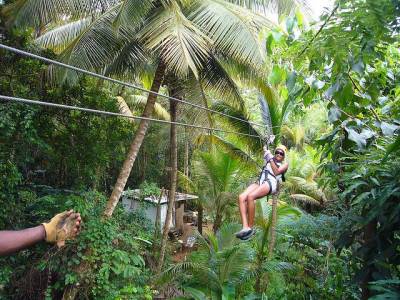 Visit the Treetop Adventure Park in Dennery for the experience of a lifetime! Zip-lining through the rainforest with knowledgeable guides and well-cared for equipment, you can satisfy your taste for adventure in a safe environment. Kids are welcome and the staff are very encouraging and reassuring for first-timers. Make sure to bring your camera so the guides can take your pictures as you zip through the treetops.
4. Hike through the rainforest
Head to the Tet Paul Nature Trail, Soufriere, for postcard-perfect views of St Lucia from the hills. Your tour guide will introduce you to the flowers, fruit and plants adorning the path, and you might get the chance to sample some fresh coconut water and other local treats, fresh from the trees. With views of the vast ocean, the Piton peaks and the land and its villages, there's no shortage of photo opportunities. Climb to the top for a full 360 degree view and feel on top of the world!
5. Meet giant turtles
Go to Grande Anse Beach to meet some Leatherback turtles. Weighing around 2,000 pounds they are similar in weight to a small elephant, and the largest sea turtles in the world at up to six feet long. Don't be put off by their massive size, though, as they are well known for their gentleness and they prefer to feast on jellyfish, not humans! The turtle-watching season is March to August, and expect to see baby hatchlings making their way from their sandy nest to the water.
6. Explore on horseback
Experienced riders and beginners alike can enjoy horseriding at the Atlantic Shores Riding Stables. They offer guided treks along the wild Atlantic coast, through forest, beach and hillside. Their small creole horses are very well trained and taken care of, and the guides can give you riding instruction as well as insights into St Lucia's culture, lifestyle and attractions.
7. Take out a bright green buggy!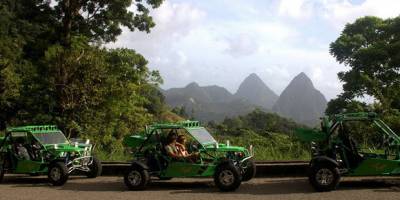 Get in touch with Island Buggies to go for an island tour in a bright green drive-it-yourself buggy! 2 and 4 seater buggies are available, depending on your needs, and a full-day tour can take you around the island to some of the best attractions St Lucia has to offer. With well-informed and friendly tour guides, and a wide range of different tours on offer, you can be sure to have an experience you will remember forever.
8. Visit Castries market
Offering local food, crafts and merchandise, Castries has three separate markets to cater to different needs and price ranges. Try the Alley for a delicious hot meal, the food market for local exotic fruit and vegetables, and the brightly colored souvenirs market for local art, spices, ornaments and tropical clothing. Choose a reasonable price and stick to it, especially in the souvenirs market. Haggling is expected and prices are flexible.
9. Take a Segway tour
Try LucianStyle Segway day tours in Gros Islet for the ride of a lifetime! With scenic offroad routes and patient, friendly guides, these Segway tours give you a view of some of the most beautiful sites in St Lucia.
10. Take a cruise down the coast
Get in touch with Joy's Adventure Excursion and Coastal Cruise in Soufriere. They can pick you up from many of the beachfront hotels or elsewhere on the coast, and take you for a day tour. Traveling by sea, you can get an amazing view of the island and its tropical scenery, as well as the Caribbean Sea and some neighboring islands. Stopping off at hidden beaches, restaurants and attractions, and the boat crews known for their local knowledge and sense of humor, you will be sure to have a great time.
Images courtesy of tripadvisor.co.uk, cheapcaribbean.com and stonefieldresort.com
Comments
No comments made yet. Be the first to submit a comment
By accepting you will be accessing a service provided by a third-party external to https://caribbean-diving.com/