5 minutes reading time
(961 words)
What is there to do in Castries?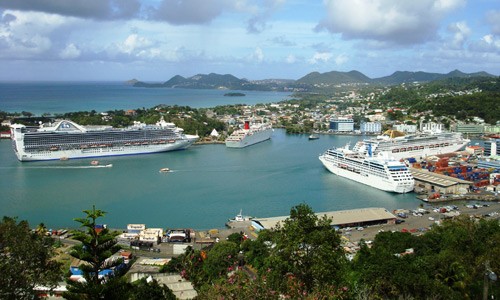 Castries is the capital of St Lucia, located in the northwest of the island and home to approximately 11,000 people. It has excellent transport links, with air, land and sea access. Those who come to St Lucia via other Caribbean islands will have a birds eye view of Castries as they descend into the George F. L. Charles airport. International flights land at Vieux Fort, and the main East-coast road leads directly from there to Castries, with no shortage of public or private-hire minivans to make the scenic one and a half hour trip.
Castries also boasts a deep harbour, which allows the city to play host to international quality cruiseships. Some of the major liners stopping at Castries include Aida and Celebrity X cruises, and it is not uncommon to see three cruiseliners in the harbour at any one time.
If your ship docks on the city-side of the harbour, the first place you will meet when you step off the ship is La Place Carenage, a duty free mall selling fine jewelry, Rolex watches, tobacco, alcohol and more tax free products. Upstairs it has two restaurants that overlook the harbour. Try Pirates for an open air dining veranda, an array of exotic cocktails and a mix of classic Caribbean cuisine amongst some familiar favourites.
Other ships dock at the far side of the harbour, near a white pyramid building and fishing boat moorings. Though La Place Carenage is only a ten minute walk from here, you may prefer to try Pointe Seraphine, another duty-free shopping haven. When you've had your fill of shopping, take a short walk past the sports complex and discover Vigie Beach, a welcoming stretch of white sand lapped by the gentle waves of the Caribbean Sea.
Another popular option is to head down to the food market, where local farmers sell their produce through a network of friendly lady stallholders. If you strike up conversation, you will also find that some of the stallholders grow their own produce in their gardens. If you are staying in self-catering accommodation, you can pick up tomatoes, cucumber, lettuce, spinach, pumpkin, chives, cabbage and bananas, to name but a few. Why not try some tropical fruit and vegetables? Depending on the season you might find golden apples, sugar apples or love apples (none of which are much like regular apples!), an abundance of mangoes, or creamy avocados. If you're feeling adventurous try a breadfruit, a large green food shaped a little like a football that has a beige centre. Boiled, chopped and deep fried, it makes an excellent alternative to french fries or potato wedges. Fried plantain is another delicious choice.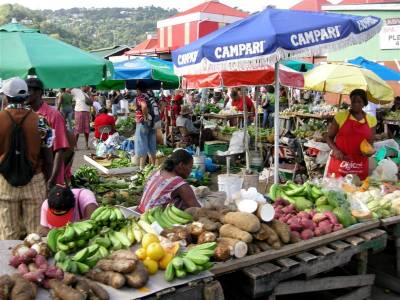 Part of the market is a covered walkway where you can sit and enjoy a freshly cooked St Lucian meal from one of the many kitchens and their attractively presented offerings. There are many options to choose from, from fish, meat and vegetarian mains, to colourful sides and refreshing drinks. For more vegetarian and vegan good options, ask for directions to 'Mococho's', a Rasta restaurant opposite the Super J store. Try the lunch plate for a delicious mix of dishes, or ask for a 'dal' and be prepared to taste one of St Lucia's most addictive culinary creations! Mini pizzas, breakfasts, soya products and drinks are also available from here at the cheapest prices in town.
Drinking the juice and scooping the sweet jelly of a freshly cut coconut is the perfect way to finish off any meal. For just 2 XCD (about 1 USD) you can enjoy in this authentic Caribbean experience. The coconut vendors, whom you can find opposite Super J, also sell coconut water in bottled form so you can enjoy the health benefits and delicious taste on the go.
Venture further into the back of the market to find authentic St Lucian honey, spices, incense, clay cooking pots and crafts. There are also two extensive markets selling souvenirs and art of all kinds. Some stalls carry similar stock to each other, but it is worth visiting to find some hidden artistic gems that could make a tasteful addition to your home. Just make sure to haggle fairly and remember you can always walk away if you feel the price is too high. If you come to Castries on a Saturday, you will find that the main street is closed to traffic, with even more stalls selling a mixture of clothing, shoes, toiletries and homeware at very competitive prices.
Those with religious or historical interest will want to visit Immaculate Conception Church in the centre of town, one of the largest churches in the Caribbean. Most of the St Lucian population is Catholic.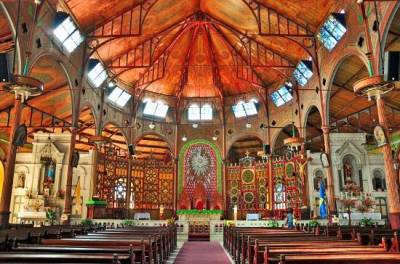 Other places of historical and cultural interest include Fort Charlotte, which chronicles the struggle between the French and English for colonial power, and Eudovic's Art Studio, a gallery and shop of stunning St Lucian woodcarvings. Both can be reached by taxi, or by catching the minibus to Odsan.
Others may want to head to the Sandals resort in La Toc, along the same route, which boasts a gorgeous beach, swimming pools, restaurants and golf.
There are plenty of taxi drivers and tour guides located outside La Place Carenage and Pointe Seraphine who will be happy to suggest attractions further afield or to take you to the destination of your choice.
The capital of St Lucia is not as geared towards tourists as other areas of the island, but is in the unique position of being able to offer duty free shopping and good quality dining alongside authentic crafts and the genuine local market. The tourist experience meets the 'real St Lucia' in Castries, and it is a perfect place to begin your deeper explorations of the island.
Photos courtesy of cnweeklynews.com, castries.communitystlucia.com and tripadvisor.com
Comments
No comments made yet. Be the first to submit a comment
By accepting you will be accessing a service provided by a third-party external to https://caribbean-diving.com/