5 minutes reading time
(1059 words)
Marigot Bay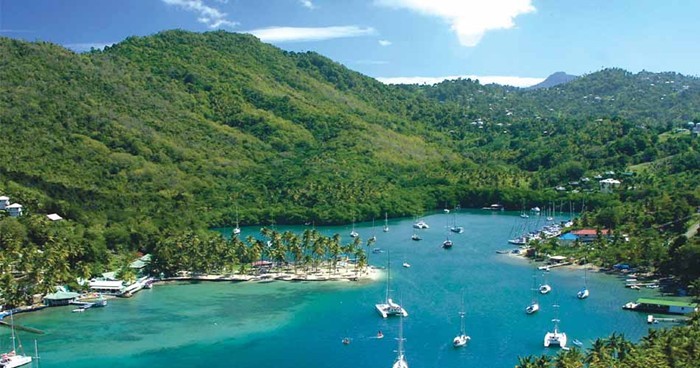 Marigot Bay is one of the most popular tourist destinations in St Lucia, and you don't have to look too far to find the reasons why.
Marigot Bay is not a centre of busy activity and glittering nightlife like Rodney Bay. It is a tranquil and relaxing place that you can enjoy as the perfect place to stay and unwind, or as a base to come home to after a busy day exploring the many attractions St Lucia has to offer. Marigot Bay is a serene, small community based around a natural harbour. You will find stalls selling jewelry, St Lucian hand carved ornaments and all other kinds of attractive souvenirs. A full spectrum of boats, from tiny fishing boats to large yachts, call in here, and there is a friendly sense of community and hospitality that reaches everyone, St Lucians and tourists alike.
There are many options for accommodation, Marigot Bay having an excellent assortment of hotels, bed and breakfast establishments, and self-catering villas. Choosing where you want to stay may be difficult, as all of these options are of an excellent standard and have received outstanding feedback on TripAdvisor. A major factor in this decision will be whether you would like to cook for yourself at times, or would prefer to eat out during your stay. If you prefer to eat in, the supermarket in Marigot Bay has a very good variety but is more exclusively priced than other local supermarkets. Other accommodations may include whether you require Air Conditioning, a swimming pool, a spa, water sports or other facilities. It is advised to get accommodation with a good balcony or veranda to make the most of the idyllic view over the Caribbean sea.
Marigot Bay is about an hour and a quarter from the main airport in Vieux Fort (UVF). Before you arrive you can consider whether you would prefer to hire a car for the duration of your stay or rely on taxis. If you plan to use Marigot as a base to tour around the island, a hire car would definitely be advisable as taxis around the island can be expensive. A 4-wheel drive car is recommended, particularly for the road between Marigot and Soufriere. If you prefer to stay within Marigot Bay for your holiday, it might be better value for money to arrange for a taxi from the airport to your accommodation. As the taxis are usually minibuses, you could join up with another couple or group going to Marigot Bay and split the fare. If you do choose this option and are staying in self-catering accommodation, you might want to ask the taxi driver to stop at a supermarket to stock up on essentials at a cheaper price than you would be able to within Marigot Bay. The major supermarket chain in St Lucia is called Super J, and you can often find a pharmaceutical section and an ATM at their stores.
Another option for getting around the island is using the local minibuses. They are very cheap at about 1 USD a journey, though you must have local currency (Eastern Caribbean Dollars - XCD) to ride. They are generally not suited to luggage as they can be quite packed. These buses pass along the main road, which is about a ten minute walk from Marigot Bay.
There are a few different options if you do want to eat out when staying at Marigot Bay for every price range. For homecooked local food at excellent prices, try the colorful Roots Bar or Marie's Beach Shack during the day. Doolittle's is another good choice for a good value meal. Julietta's, famous for their delicious coconut shrimp, provides excellent food catering to a middle of the range budget. If you prefer a more gourmet experience, take a free ferry across the water to reach the highly-acclaimed Rainforest Hideaway. Call ahead to enjoy the benefits of a waterfront table. Remember that in St Lucia, the sun sets around 6pm, so if you plan to catch the sunset at dinner an early reservation is required.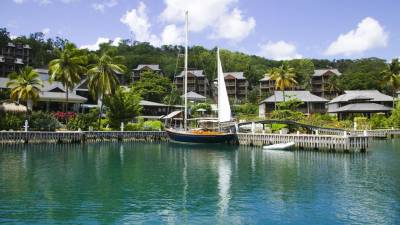 Although Marigot Bay is perfect for relaxation, those who want to dive and explore the island by boat will not be disappointed. Find Denver and his Shashamane water taxi for a tour down the coast to Soufriere. Enjoy the Soufriere beach and some lunch or a cocktail and make your way back up in the afternoon, marveling at the endless stretch of calm Caribbean sea and the lush vegetation of the island. If Denver is unavailable there is no short supply of other water taxis and their friendly drivers to show you around.
You might want to take a taxi (road this time!) to go to the Friday night fish fry in Anse La Raye. Anse La Raye is a small fishing village on the coast that holds a small get-together every Friday night, with local music, dancing and seafood delicacies at reasonable prices. Sample octopus, snapper, conch or oyster with well-known national side dishes such as rice and peas, coleslaw and macaroni.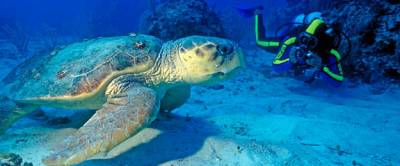 For the divers, Marigot Beach Club & Dive Resort has it all. They are PADI certified and cater for all levels of diver, from complete beginners to seasoned experts. A huge variety of marine life lives beneath the calm Caribbean Sea, and you could be swimming with goat fish, barrel sponges, and trumpet fish, to name but a few. Sometimes divers are even lucky enough to catch sight of endangered turtles. The Resort offers all-inclusive dive packages that include accommodation, meals and diving trips, or, if staying elsewhere, you can opt to pay per dive when you visit. The rental charges for the equipment total less than 40 USD. Snorkelling is also available.
If you prefer to be on the water instead of under it, check out Bateau Mygo. They offer sailing charters to Martinique, the Grenadines, Dominica and Grenada, as well as local dining cruises, champagne sunset cruises and sport fishing.
Marigot Bay is a versatile place and you can make it suit the kind of holiday you are looking for. Whether you want to explore the luscious land or the Caribbean Sea, or simply unwind on the veranda with breathtaking views and plenty of sunshine, Marigot Bay could be that slice of Paradise that you are looking for.
Images courtesy of AnseChastanet.com, itcluxurytravel.co.uk and kiwicollection.com
Comments
No comments made yet. Be the first to submit a comment
By accepting you will be accessing a service provided by a third-party external to https://caribbean-diving.com/