4 minutes reading time
(766 words)
'Immersion' in St Lucia Part 1
'Immersion' is the new buzzword in travel circles. It shuns cookie-cutter beach all-inclusives and characterless package holidays in favor of seeking out experiences that reflect the genuine feel of the country.
Immersion traveling says sun, sea and sand can be found in thousands of places all over the world, but what is it about your destination that makes it different? What makes it unique? It is pretty difficult to capture the real spirit of a place if you're cooped up in a resort.
This is where 'tourist' ends and 'traveler' begins. Perfect for those who crave adventure and culture, approaching holidays from this revolutionary perspective will create unique memories that last a lifetime.
Here we run down 10 immersion experience ideas to get you started:
1. Join in Independence Day Celebrations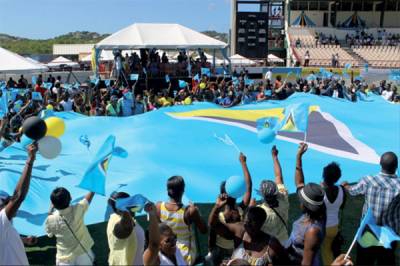 After a long-fought over colonial rule between the French and the British, St Lucia remained under British rule until 1979. Independence Day is now celebrated in a big way every year, with a national holiday and celebrations throughout the island on February 22nd.
Island traditions include the Greasy Pig game, in which a pig in a muddy ring is covered in grease. Whoever can catch the slippery thing gets to take it home and, inevitably, hilarity ensues. The Greasy Pole game sees an unused electric pole covered in grease and a valuable food item such as a whole ham placed at the top. The pole impossible to climb, young men resort to towers of on-shoulder teams to claim the prize.
Other attractions include funfairs and street parties known as block-o-ramas throughout the island, as well as concerts and other events such as a round-the-island walk, in which a group leaves from Castries at 3pm one day, walks a rough circumference of the island and (a small portion!) arrives back in Castries at around the same time the next day.
2. Go to a Country & Western night
Believe it or not, St Lucia goes mad for Country & Western music. Strolling down a residential street on a sunny afternoon, particularly on a Sunday, you are likely to hear the twangs and love-life laments of this classic American genre wafting out of many a brightly-colored house.
Real aficianados can take refuge in many of the Country & Western bars that are scattered around the island, a particularly good one being above the Castries tourist market, just above the main roundabout that links the Bank of St Lucia, Super J and the harbour. Couples dance competitions and best-dressed awards abound.
3. Spend Sunday afternoon at Vigie Beach
Quiet and tranquil during the week (despite being next to an inter-Caribbean airport!) and just two minutes from Castries central, Vigie Beach comes alive at the weekend. On Sunday afternoons you'll find families having barbeques, youngers pumping music out of their cars, kids splashing in the sea and numerous games of cricket and football. On bank holidays, the beach gets so packed that it might be difficult to find any space to yourself!
4. Drop in at Super J
Super J is the nation's favourite supermarket chain with a lion's portion of the market-share. An abundance of American imports sit alongside local tropical fruit and veg. Fresh food from more temperate climates, such as apples and mushrooms, is also available. Free-to-use ATMs, pharmacies, phone top-up points and a huge range of food products makes Super J a great place to stop for holiday supplies. Those from the UK might be interested to see Waitrose products in the aisles and enjoy the luxury of having your bags packed by a dedicated attendant. Tip a waiting man 2 XCD to wheel your trolley to your car and help you unpack.
5. Visit the Rastas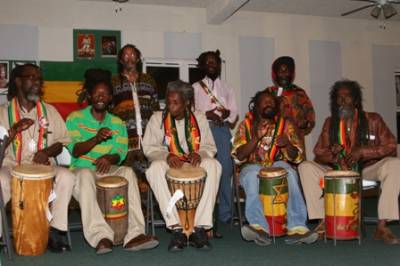 Rastafari, though emerging from Jamaica, has spread throughout the Caribbean like wildfire. Known for their wisdom, use of ganja and dreadlocks, you'll see Rasta men and women with knitted tams and red, gold and green regalia throughout the island. Visit La Tille Falls, a tourist attraction in Mahaut on the East coast, to have a chat with one of the friendliest Rastas on the island.
For those who want an even deeper experience, visit the Nyabinghi Tabernacle in Vieux Fort, a Rasta church that is host to drumming and chanting on holy days. The sect of Rastas that wear turbans and brightly colored gowns, called the Bobo Shanti, can also be found on the island running 'ital' (vegan) restaurants and herbal medicinal centres.
Continue to Part 2 for 5 more Immersion ideas that get to the heart of the St Lucian experience.
Images courtesy of caribbean-rastafari-organization.e-monsite.com, and thevoiceslu.com
Related Posts
Comments
No comments made yet. Be the first to submit a comment
By accepting you will be accessing a service provided by a third-party external to https://www.caribbean-diving.com/