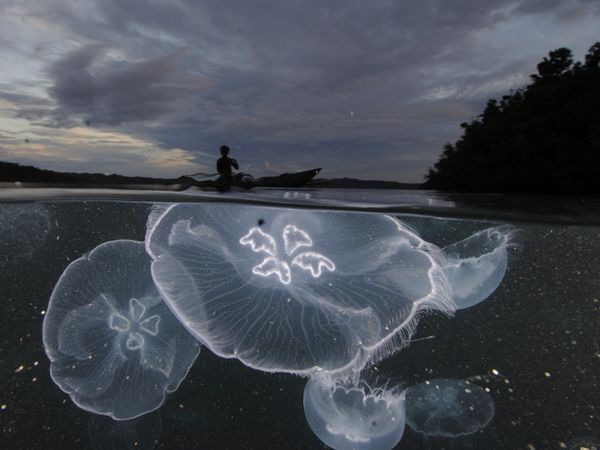 Location : North West Antigua, Dickenson Bay.
A potential chapter from Tales in the Tropics.. Image thanks to Ocean National Geographic
It was an amazingly calm day so much so that there was no sail fun to be had. So a Kayak it was then, fuelled by some baileys on ice and a massive all inclusive buffet feed I was ready to go. In need of some exercise I decided to head along towards the right and a trail I had done before - it was so calm maybe I should choose another course. Maybe I could get to Millers bar if I turned left instead.I decided to start off left and see where the fatigue set in. Amazingly I had a super energy day. Maybe the biorhythms were good in the physical we had a session playing tennis earlier in the extreme heat. The small islet off diagonal has been teasing me for a long time and it was still so very calm.
"I had visions of them sticking on the paddle and as I brought the paddle up they would wander down and attack me to death"
I felt good and went to see how I could get there. It felt I was further out than I was since there was a large tanker refuelling the island at the offshore tanks. The first thing I noticed was how clear it was a spectacular visibility. And then I kept seeing very small surface disturbances. In no time at all I crossed a very real line into a thick shoal (swarm) of moon jellyfish, the classic shaped ones purple trim and mauve clear see through amazingly pretty and scary in the sting kind. I was not sure if they were so dangerous to the sting. But what was concerning me was if I was to get stung this far out I could start to get in some trouble, the jetskis were now behind me but I am sure it would have been ok.
"some big pelican like birds that were very scared of me or the massive banana I was riding"
It was even impossible not to hit them jellys paddling and I had visions of them sticking on the paddle and as I brought the paddle up they would wander down and attack me to death in the middle of paradise. But I kept going I didn't want to disappoint myself and I wanted some bragging rights for our last night in the Halcyon Rex. It took a good while to get out there but I still felt strong and I knew I was going to reach the island. Some guys were the other side of the islet in a boat looking up to no good - they said hi but I just wondered what they might be doing checking traps or something. Well the Jellys would have made a problem for them ? They were leaving and I was now around the small rock which had a cacophony of gull song. It was pretty and I felt a great sense of achievement and happy I could get back. The conditions were still very calm - do not attempt this on a normal day or if you are not experienced at sea and in difficult water.
I didn't follow the same route back since there were some islets barely breaking the surface much like a min Cades Reef - which is the best dive site range in Antigua. Part of my reason for the island teasing me is that it looked such a great dive. Not a deep one here the bottom was barely 15 ft and less as I worked towards the islets.
I happened across a massive stingray on the bottom and couldn't get turned quickly enough to get a better look but I confirmed the sighting. The tell tale shape across the back 'diamond' a real nice size but nothing like a manta can get. Still the Jelly's were everywhere. This was after cruising by the range of islets and some big pelican like birds that were very scared of me or the massive banana I was riding. I was confirming the lack of a decent dive site though with the absence of the jellys it could be an amazing free dive spot for sure. Maybe the jelly fish wont sting and then it must be a beautiful sight underwater.
I dug deep to get across to the point and towards Blue Waters Resort where I initially intended going so my route was a big rectangle shape. What was one of the most obvious things was crossing the real line and all of a sudden no more jellys. So the point had a current that it was breaking off and the Jelly preferred to stick in that for their free ride. I got back and told ken of my adventure - he was impressed with how far I had gone and I guess so was I and I guess on a normal day it would have been tough going at some point battling the wind. Today there was little.

Please consider to subscribe to this caribbean blog if you liked this or at least like it on facebook g+ or twitter thanks. It helps me keep writing.